News story
Iraq Reconstruction Service Medal to be decommissioned
The Iraq Reconstruction Service Medal (IRSM) will be decommissioned in 2013. Any outstanding applications should be submitted by 1 October 2013.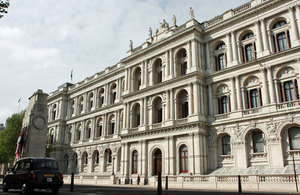 The IRSM was introduced in 2007 to recognise and reward the services of civilian Public Servants, Contractors and Consultants who were either appointed, deployed or employed by HMG to work in Iraq to support HMG objectives, and who were not eligible for the Military Iraq Campaign medal.
The Award was approved by Her Majesty the Queen in 2004, and since its inception over 3800 individuals have received the IRSM.
The IRSM is reminiscent of a time when Iraq was going through a period of reconstruction and is no longer consistent with our approach to the UK's bilateral relationship with Iraq. The decision has therefore been made to cease issuing the IRSM in line with the normalisation of Iraq.
The deadline for applications for the final round of the ISRM is 1 October 2013.
To qualify for the IRSM you must meet the following criteria:
You must not be eligible for the Iraq Campaign Medal
You must have completed 40 days service in Iraq within one calendar year
You must have worked directly on an HMG contract or been directly employed by HMG on a full time basis
A complete breakdown of the full eligibility criteria can be found here.
Applications should be made on the following form (MS Word Document, 23.5KB)
Then submitted to IRSM@fco.gov.uk
Applications from non HMG staff members must come from the HR department of their parent company, along with written confirmation of the dates spent working in Iraq. We are unable to accept direct applications from individuals who are not directly employed by the FCO.
Further information
UK and Iraq website
Follow the Foreign Office on twitter @foreignoffice
Follow the Foreign Office on facebook and Google+
Subscribe to the announcements feed or email alerts to get our latest news and announcements
Published 1 July 2013