World news story
Invitation to submit applications for project funding
This was published under the 2010 to 2015 Conservative and Liberal Democrat coalition government
The British Embassy in Peru opens its application window for project bids for the financial year 2014/2015.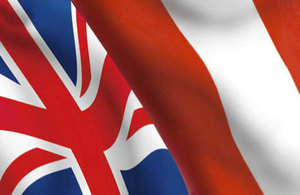 Civil society organisations, NGOs, international organisations, government institutions, research organisations and universities can submit proposals for projects to be implemented in Peru between April 2014 and February 2015.
The priority areas – themes for project work
Climate change and energy security:
Development of climate-related legislation: training in low carbon policies, incentives and energy regulation;
Help maximise success and impact of the UN Climate Summit (COP20), including public engagement;
Engagement of the private sector in climate security and energy, developing an understanding of climate change as an economic threat and opportunity.
Human rights:
Prevention of sexual and domestic violence;
Inclusion of disabled groups;
Inclusion of LGBT groups.
Sustainable economic development and governance:
Promote transparency to combat bribery and corruption, including through the Open Government Partnerships (OGP), OECD standards, the Voluntary Principles (VPs), the Extractive Industries Transparency Initiative (EITI) and by strengthening the private sector capacity to fight corruption;
Promoting a competitive business environment;
Developing Public Private Partnerships at central and sub regional level;
Fight against drugs and organised crime:
Support Peru´s capacity in the fight against organised crime, with emphasis in drug trafficking and money laundering;
Development of Cyber Security policy and strategy.
Characteristics of the funding
There are two types of funds available:

Type A: Projects up to $40,000
Type B: Project between $40,000 – $130,000
The execution time of the project must be between April 2014 and February 2015
Any organisation may submit more than one project proposal
Project designs must include strong engagement processes with stakeholders and beneficiaries (e.g. governments, business). When project proposal will involve the participation of any national or sub national government body then they must have been consulted in advance and have confirmed their support.
Practical and high-impact interventions that will lead to a real and timely difference to decision-making. We are not looking for one-off activities (e.g. workshops) or micro-level projects.
We are looking for sustainable proposals that are not dependant on long-term external financing, that are able to generate a permanent change in state and are not of a purely supportive nature.
Proposals must clearly be catalyst to transformational changes in policy and practice. Proposals focusing purely on research or analysis will not be eligible for support unless they lead to specific and measurable action.
We are looking, where possible, for proposals that seek to incorporate links to the UK: organisations, experiences, best practices, experts, and others.
All proposals must include publicity, dissemination and outreach activities in the budget from the outset. All projects must have a strong communications strategy to disseminate the results of the project.
Up to 8% of the budget may be used for administrative expenses (e.g. administrator/accountant, project coordinator and/or assistant, telephone, internet, office utilities).
The funds can not cover the following types of expenses: advertising (advertisements in print media, radio, TV, digital), rental of premises, purchase of assets (cars, computers, machinery, etc.).
Application Process
The bidding process is run in two stages: concept and full bid. Only bids approved through the concept stage will be invited to submit a full bid.
Organisations interested in applying for funds must submit a "Project Concept Bid form" in English to the following email address: BEProjectsPeru@fco.gov.uk, no later than Friday, February 14, 2014.
Please write "Call for projects bids 2014-2015" and please include the type of fund (A or B) you are applying for in the subject line.
For further guidance please read "How to complete Concept Bid".
Information sessions
The Embassy is organising presentations to provide more detailed information about the funding and the application process:
Presentation 1: Tuesday 21 January 15:30 pm – presentation for public organisations and agencies interested in applying
Presentation 2: Wednesday 22 January 10:00 am – presentation for civil society and private organisations interested in applying
If you are interested in attending one of these sessions, let us know by writing to BEProjectsPeru@fco.gov.uk by Monday 20 January. Please include your full name, ID number and organisation name.
Learn more
If you have any further queries, please write to BEProjectsPeru@fco.gov.uk
Document information
Published: 9 January 2014