News story
Investment and Contract Readiness Fund helps social ventures win business worth £117 million
A world-leading business support fund has helped charities and social enterprises win investments and contracts worth £117 million.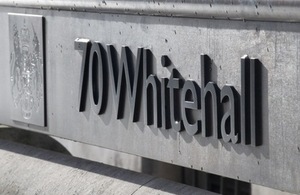 The Investment and Contract Readiness Fund (ICRF) helps charities and social enterprises acquire the skills to raise investment and compete for public service contracts. Cabinet Office funds the ICRF and the Social Investment Business manages it. A recent report for the G8 identified it as a vital tool for the UK social sector, which already contributes more than £80 billion to the economy each year.
So far, 51 charities and social enterprises have won deals worth £117 million with help from ICRF grants worth just £4.5 million – £26 for each £1 of grant. Successes include:
Steps To Work: £91,600 has helped it compete against commercial rivals to win a contract from Walsall Council to fill around 250 temporary jobs each week. The contract is worth about £27 million over 3 years

Empower Community: a £108,650 ICRF grant helped it secure a £10.1 million loan from a UK institutional pension investor. This will allow it to provide free daytime solar energy to social housing tenants in more than 2,300 Sunderland homes

The Big Life group: a £105,000 grant helped it win contracts worth £5 million over 5 years to run 6 nursery schools. The nursery schools will help 450 children in deprived areas of Greater Manchester and create 100 new jobs

City and Hackney Mind (CHM) won a tender of £10 million over 5 years. It will be the lead mental health services provider in Hackney and the City of London, offering a personalised service to over 2,500 people.
Minister for Civil Society Rob Wilson said:
As highlighted by the recent G8 report, the Investment and Contract Readiness Fund has had a significant impact both on the charities and social enterprises that have received funding and on the wider social investment market. Throughout the country there are fantastic charities and social enterprises, providing invaluable services to their community and making significant contributions to the national economy, and the ICRF is helping them scale up their activities rapidly. I am pleased that this fund – the first of its kind anywhere in the world – has been such an indisputable success.

ICRF has been a fantastic example of how, with the right support, social ventures can grow and prosper. That's why we are planning to direct available capital from the Futurebuilders loan-book – estimated to total £60 million over the next decade – to similar programmes that will support social ventures that are getting ready to access social investment, and we will be announcing further news about this soon.
Jonathan Jenkins, CEO of the Social Investment Business, said:
This pilot programme has over-achieved and its success shows how, with specialist business support, charities and social enterprises can scale up rapidly and create much greater impact in their communities. There is a clear need for this type of funding and we will continue our work to develop this type of finance.
The ICRF featured in a UK report for the Social Impact Investment Taskforce set up by the G8. The taskforce recommended expanding and extending the fund to grow the social investment market and develop the sector.
Find out more about the ICRF.
| Venture | ICRF grant | Investment raised/ contracts won | Investment or Contract | Provider |
| --- | --- | --- | --- | --- |
| Steps to Work (Walsall) | £91,600 | £27,000,000 | Contract | Banks Canell |
| Pure Innovations Group | £52,250 | £11,700,000 | Contract | Stepping Out |
| City and Hackney Mind | £95,815 | £10,164,000 | Contract | CAN Invest |
| Anglian Community Enterprise CIC | £74,328 | £6,000,000 | Contract | Baxendale |
| The Big Life Group | £105,732 | £5,000,000 | Contract | Baxendale |
| Greenwich Leisure Ltd | £129,000 | £5,000,000 | Investment | Triodos |
| Care Plus Group | £132,768 | £4,500,000 | Contract | Baxendale |
| Midlands Together CIC | £149,300 | £3,000,000 | Investment | Triodos |
| Consortium of Voluntary Adoption Agencies UK Limited | £140,972 | £2,000,000 | Investment | Social Finance |
The ICRF has made grants worth £13.2 million to 154 ventures; 103 ventures with combined grants of £8.7 million are still pursuing business support programmes, investment or contracts.
Published 26 November 2014