News story
Investing in social enterprise: government publishes policy roadmap
The government sets out the steps being taken over the next year to enable the right conditions for social enterprises to thrive in the UK.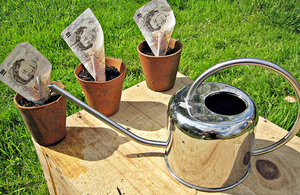 The government has today (Thursday 30 January) published its Social Investment Roadmap, setting out plans to extend support in the tax system for the ways that people can invest in social enterprise - a business that trades for a social good or purpose - in 2014.
The roadmap builds on a formal consultation on social investment tax relief, published in summer 2013 and draft legislation published in December 2013. It sets out the government's plans to:
seek approval from the European Commission to introduce a larger scheme
expand the options for indirect investment
establish a government-run accreditation scheme for Social Impact Bonds eligible for social investment tax relief
make changes to community interest companies' regulations
promote the scheme to investors and social enterprises
Research from the Big Society Capital has found that the relief, which will from April give an income tax deduction to investors, could unleash up to £500 million of extra investment over the next five years.
The government has already announced that the social investment tax relief will be available for private investment in charities, community interest companies and community benefit societies, and in social impact bonds where the special purpose vehicle is a company limited by shares.
The government will announce the rate and the maximum amount of investment eligible per organisation at Budget. So far, it has already been announced that organisations with 500 or fewer employees will be eligible for the relief.
Commenting on the publication of the roadmap, Exchequer Secretary to the Treasury David Gauke said:
The government wants to make the UK one of the easiest places to invest in social enterprises in the world.

Today we're setting out the steps we plan to take over the year which will further enhance the environment for social enterprise in the UK, creating the right conditions to allow the sector to thrive.

The government is keen to draw on the expertise of the social enterprise sector as we take the next steps in supporting this vital sector.
Image by Images_of_Money on Flickr. Used under creative commons.
Published 30 January 2014