News story
Introducing 'Personalised health and care 2020: a framework for action'
How we'll use data and technology to transform outcomes for patients and citizens.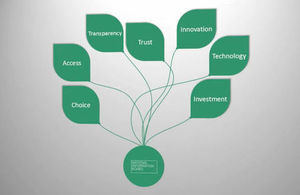 The National Information Board today (13 November 2014) launched Personalised health and care 2020: a framework for action.
This is not a strategy in the conventional sense but a framework for action that will support frontline staff, patients and citizens to take better advantage of the digital opportunity.
Our videos explain more about how taking advantage of the opportunities offered by digital can:
give patients and citizens more control over their health and wellbeing
empower carers
reduce the administrative burden for care professionals
support the development of new medicines and treatments
Find out more about the principles that guide the National Information Board's work and what they mean for service users and clinicians.
Watch Secretary of State for Health Jeremy Hunt, Chief Nursing Officer Jane Cummings and NIB officials talk about the benefits of taking forward the recommendations in the NIB framework.
Published 13 November 2014