Organic food: labelling rules
How organic food producers, sellers and importers must label organic food products.
There are different labelling requirements depending on whether the organic product is produced for Great Britain (GB), EU or other third country markets.
You must register with one of the organic control bodies if you produce or sell organic food and you want to label it as organic.
You can decide which body to register with based on your location and needs.
Label food as organic
You can only label pre-packed foods 'organic' if at least 95% of the ingredients of agricultural origin are organic.
Your food label must state the control body's code number. For UK-origin produce the code number format is GB-ORG-XX. Produce usually has a different 3-letter code, such as 'bio', 'öko' or 'eko' instead of 'org', if it's from a non-English speaking country.
If you're a retailer, you can label products 'organic' as long as:
at least 95% of the product's farmed ingredients are organic
you sell direct to customers in your shop – this applies to all retailers from farm shops to supermarkets
Control body code
Operators certified to GB standards and selling products in GB must continue to include their UK allocated control body code 'GB-ORG-XX'.
Operators exporting to other third countries must include the 'GB-ORG-XX' code, as this confirms they're certified to the GB domestic standards.
Statement of agricultural origin
The following statements of agriculture are mandatory on products produced in GB because we have left the EU:
'UK Agriculture' – where 98% of the ingredients are produced in the UK
'UK or non-UK Agriculture' – where the product is produced with ingredients grown in and outside the UK
'Non-UK Agriculture' – where 98% of the ingredients are produced outside the UK
An operator can use more specific references if 98% of ingredients are grown in a specific area. For example, milk from Northern Ireland (NI) can be labelled as 'Northern Irish Agriculture', or Welsh lamb can be labelled as 'Welsh Agriculture'.
The above labelling changes apply from 1 January 2021 and must be made by 30 September 2022 for products placed on the UK market.
When printing new labels, you must comply with the new labelling requirements. You must not remove or deliberately omit mandatory information.
List organic ingredients in non-organic products
You can list ingredients in non-organic food products (conventional foods) as organic providing they meet GB or EU organic standards. For example, your label can say 'organic sugar' on a food package that contains non-organic ingredients.
Using the EU logo
Including the EU organic logo on GB organic food or feed is optional. If used, the organic product must meet the EU organic labelling requirements and statement of agricultural origin.
If the operator includes the EU organic logo for GB exports to the EU, they must include the EU statement of agricultural origin ('EU' or 'Non-EU Agriculture').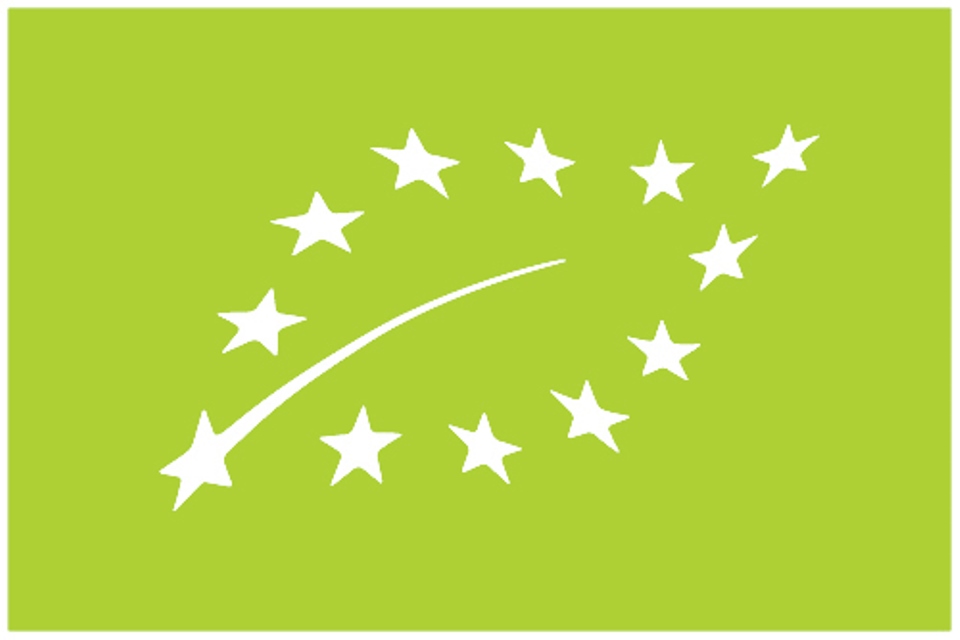 Published 29 April 2016
Last updated 25 March 2021
+ show all updates
The page has been updated to clarify the what labels must state, and what the control body code numbers are.

First published.