International Women's Day: UK tackles violence against women
The UK will spearhead a new drive to save girls and women from the domestic violence and trafficking in poor countries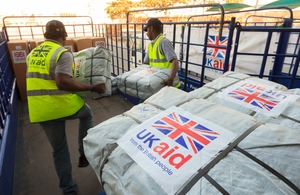 Britain will spearhead a new drive to save girls and women from the threat of domestic violence and trafficking in the poorest countries, the Development Secretary Andrew Mitchell has announced today.
The UK Government will provide advice and support to help thousands of survivors of domestic violence and help many more of the poorest girls and women to escape the threat of trafficking in Asia.
The drive comes as millions of people around the world mark International Women's Day - an annual event to highlight girls' and women's right to equality.
International Development Secretary, Andrew Mitchell, who is speaking at Women for Women's Join Me on the Bridge campaign for greater equality across the world later today, said:
It is shocking that for millions of the world's poorest people their gender is the biggest barrier to a healthy and secure life. This is why the Government puts girls and women at the heart of all our development efforts.

Discrimination and violence destroys the potential of girls and women in developing countries and prevents them from pulling themselves out of poverty.

But today is not just about tackling abuse - I support Join Me on the Bridge because the UK is determined to back women taking an active part in peace building. It is only by men and women working together that we will see long-term peace and development.

The specific projects will:
End trafficking for 60,000 girls and women in South Asia
Britain will help to end trafficking of up to 60,000 women and girls in South Asia in Bangladesh, Nepal and India by:
Giving poor and vulnerable women access to mobile phone so they can access a simple website and helpline to get information on how to avoid abuse, exploitation and trafficking when they migrate for jobs abroad
Working with clothing businesses to improve working conditions and to make sure factories do not recruit victims of trafficking from agencies that leave the women forever in debt
Working with local trade unions to set up networks of support, advice and refuge, for foreign workers where necessary
Using those who have been trafficked to talk to others before they migrate to highlight risks. Use their experience to see what can help others, or what can be done to hinder trafficking.
Prevent violence against 7,000 girls and women in Zambia
DFID will work with Zambia to prevent gender based violence and improving survivors' access to comprehensive support services.
Over the next 3 years, the DFID support will:
Provide 7,000 survivors with access to legal, psychological and medical support
Train 1,600 community leaders to become advocates for women's rights, helping to speed up improvements in police responses to domestic violence and encourage girls and women to have a say in decisions that will affect their lives
End Early Marriage for 200,000 girls in Ethiopia
Working with the Nike Foundation and the Government of Ethiopia, British aid will help at least 200,000 girls to delay their marriages and to stay in school.
We will help teach the benefits of the delayed marriage to children and parents to help ensure that girls get a decent education.
Around half of all girls in Ethiopia are currently married by age of 15 years - the highest rate of child marriage in Africa.
Published 8 March 2012