International Rescue Corps team unable to join operation in Japan
Foreign Office Minister Jeremy Browne has spoken after an International Rescue Corps (IRC) team travelled to Japan but was unable to join up with the official Government run rescue.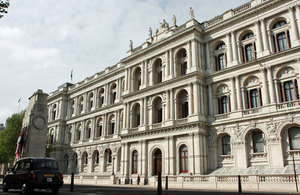 Speaking today the Foreign Office Minister said:
"The Japanese Government has rightly been leading and co-ordinating the response to the tsunami disaster. The British Embassy in Tokyo has been doing everything possible to assist British nationals, and help the Japanese authorities. The British Government has the greatest respect for the work the International Rescue Corps does in disasters around the world. The misunderstanding about their attempt to join the Japanese earthquake and tsunami response is therefore most unfortunate.
"British Embassy staff made contact with the International Rescue Corps team when they arrived in Tokyo. We sent a letter of support to the Ministry of Foreign Affairs early on the morning of 16 March at the request of the Japanese. Our staff followed this up with phone calls to the Japanese Ministry of Foreign Affairs. As is usual in international humanitarian responses, it is right that the Japanese Government remains in control of the situation and decides which search and rescue operations to support.
"Before the DFID Search and Rescue team left Britain for Japan they had permission of the Japanese Government to travel and the necessary support structures in place. On arrival in Japan, IRC did not have the necessary transport and translation support in place. The British Embassy in Tokyo provided support to the IRC, but the final decision about what role they could play in the rescue effort was made by the Japanese authorities."
Published 16 March 2011