News story
International Development Minister Rory Stewart concludes Asia visit to promote peace, security and prosperity in the region
Rory Stewart visits Burma, Bangladesh, Nepal and Afghanistan on first trip to the region since becoming International Development Minister.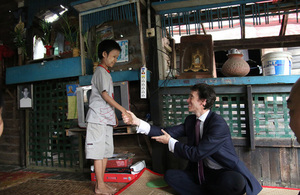 Rory Stewart visited Burma, Bangladesh, Nepal and Afghanistan on his first trip to the region since becoming International Development Minister to see how UK support is helping to build more peaceful, prosperous, safer and healthier countries, which is also in Britain's interest.
Burma
In Burma, the Minister met with Aung San Suu Kyi and a range of Burmese government ministers. He visited Yangon General Hospital which DFID has helped to rebuild, and announced that the UK is helping to cut malaria deaths by providing 450,000 testing kits, providing lifesaving treatment for 11,000 people suffering from malaria, and distributing 2 million mosquito nets.
The UK is also helping build Burma's resilience and strengthen its capacity to respond to humanitarian disasters, so they can be less reliant on donors such as the UK. UK support for UNICEF is improving sanitation and the quality of water for 90,000 people across 150 villages in Rakhine State, Yangon, Bago and Ayeyarwady. DFID is also providing rainwater ponds in 80 villages and rainwater tanks for 8,000 households in those regions, as well as helping them prepare for natural disasters.
Britain remains a global and outward-looking nation and we will deepen our international partnerships to secure our place in the world by supporting economic prosperity, stability and security overseas.
UK International Development Minister Rory Stewart said:
I'm really proud to be able to announce that DFID will be providing additional support for malaria prevention as part of the UK's global campaign to eliminate the disease. And in the wake of the Burmese earthquake I am delighted to announce further UK support to communities who suffer under the horrendous impact of floods, earthquakes and other natural disasters.
Bangladesh
The Minister then travelled to Bangladesh to assess the progress made by UK aid in support of the Government of Bangladesh's aim to achieve middle income status within the next decade. He visited UK-supported projects in Dhaka including a primary school and a garment factory to see first-hand how UK aid is making a difference to people's lives; and also met with the Honourable Prime Minister of Bangladesh, Sheikh Hasina.
Nepal
In Nepal, the Minister saw the impact of last year's earthquakes, assessed the progress made on reconstruction and reaffirmed the UK's support for Nepal's development. The Minister met with Honourable Prime Minister Dahal and other government ministers to discuss the next phase of UK support to Nepal. He also met with the CEO of the Nepal Reconstruction Authority and DFID programme partners to discuss how access to bank accounts could be increased to speed up the payment of housing grants to households affected by the earthquake.
Afghanistan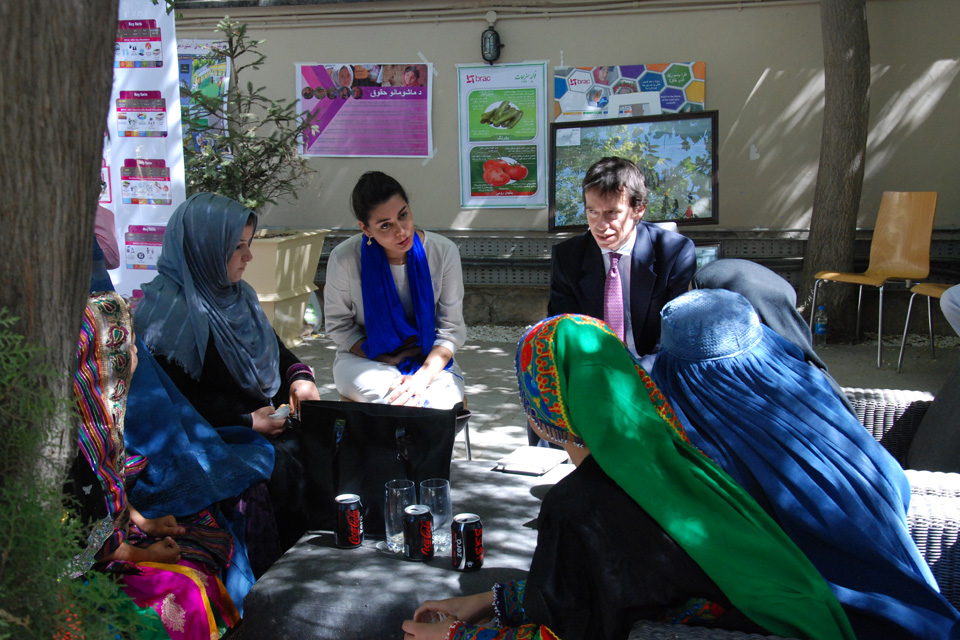 The Minister concluded his Asia visit in Afghanistan where he met with His Excellency President Ashraf Ghani, His Excellency CEO Abdullah Abdullah and His Excellency Minister of Finance Mr Eklil Ahmad Hakimi, and discussed preparations for the upcoming Brussels Conference on Afghanistan.
The Minister attended a girls' education event and heard how UK support has helped the number of Afghan children attending primary school rise from 4.3 million in 2008 to more than 7.2 million by 2014. Of these, 39 per cent were girls, up from virtually none under the Taliban when girls were not allowed to go to school.
Published 8 September 2016