World news story
Inter-ethnic Youth Leadership and Community Building in Kosovo
Deputy Head of Mission supports creation of advocacy groups as a vehicle to promote a culture in which problems are solved through dialogue.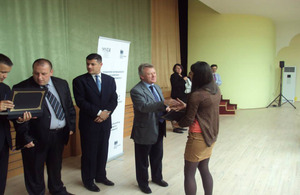 The aim of British Embassy-funded project "Inter-ethnic Youth Leadership and Community Building" in Mitrovica was to increase interaction and engagement of young Serbs and Albanians through inter-ethnic community-building activities. The project established a core of young Kosovans positioned to be strong community leaders in municipalities that will benefit from multi-ethnic initiatives, multi-disciplinary approaches, and self-directed leadership. This cadre of young leaders are now well-equipped to establish new nongovernmental organisations, a youth movement, an advocacy and political communication resource centre, or a venue for political education for example.
On 31 May 2013, the Deputy Head of Mission, Joe Preston, congratulated National Democratic Institute (NDI) for successful implementation of the project "Inter-ethnic Youth Leadership and Community Building".
Mr Preston, said:
The engagement gave young Kosovo Albanians and Serbs the opportunity to discuss difficult issues, to understand each other's point of view and be better able to work together constructively for their common future.
One of the participants said:
I didn't know what to expect, but the programme has fulfilled my expectations, most importantly we learned how to overcome the prejudices we have had about each other. We realised that we are more similar than different.
The project forms a part of the Embassy's ongoing efforts to assist reconciliation between Kosovo Serbs and Kosovo Albanians by improving inter-ethnic relations and understanding.
Published 3 June 2013