Integration through sport: thousands to get involved in local activities
Four areas have been awarded funding to get thousands of people involved in sport.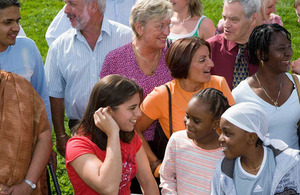 Four areas have today (14 November 2013) been successfully awarded funding to get thousands of people involved in sport, exercise and activity classes as part of the government's push to break down barriers and get people from all different backgrounds involved in shared activities.
Manchester, Kirklees, Luton and Greenwich will share £364,000 over 2 years to get over 20,000 people to participate in sport and exercise. Community groups in each area will put on sporting projects including football coaching by Charlton Athletic Community Trust and a 7 day sports festival in Manchester to coincide with the end of the Commonwealth Games.
The 4 successful areas were chosen by the government and Sport England as integration priority areas that are working with government to improve community cohesion. This is one of a number of projects the Department for Communities and Local Government is funding to bring people from different backgrounds together and help build stronger communities.
The money announced today is in addition to the funding already being invested by the government and Sport England in sport and local communities.
Minister for Communities Stephen Williams said:
Sport is an excellent way of breaking down barriers and getting people involved in activities - you only need to look at football teams, whether they are the England national side or in a Sunday amateur league, to see the mixture of people of different backgrounds that are brought together by sport.
The funding is being granted to community organisations that will be organising events across a wide range of sports including athletics, basketball, cricket, football and rugby. Other activities that will take place include walking groups and dance classes. All organisations have shown that their programmes will appeal to people of all backgrounds, including different ethnicities, gender and age. Successful towns were chosen in partnership with Sport England, along similar lines to its community sport activation fund.
Stephen Williams added:
There are already thousands of examples across the country of people from all walks of life getting involved in shared activities, including sports, community work and volunteering and we can be very proud of that. Now I want us go further still, to get more people involved in local activities, and provide additional sporting and fitness opportunities to 4 inner city areas into the bargain.
Sport England Chief Executive, Jennie Price, said:
Sport offers so many fantastic opportunities, whether it be taking part or helping out. We are very pleased to be working in partnership with the Department for Communities and Local Government to invest in these innovative sports projects, giving people a chance to get into sport in the way that suits them best.
Details of individual projects
Greenwich
Charlton Athletic Community Trust will work with a range of local sports clubs, voluntary sector organisations, Greenwich Leisure Limited and Charlton Athletic Race and Equality (CARE) Partnership to run a multi-sport programme that builds on the Royal Borough of Greenwich's Olympic Legacy, and links to future major sporting events, including the tall ships race in 2014, and the Rugby World Cup in 2015.
The target population is Woolwich, incorporating 4 wards with significant levels of multiple deprivation and social exclusion.
The principle of unity will run throughout the entire project, providing opportunities for people from different backgrounds to interact with other communities. A period of targeted community engagement will be undertaken at the outset.
There are 7 sports being laid on, each with a clear focus on engaging participants from different faith and ethnic groups. An exercise and dance programme has been included to ensure gender balance, as the active people surveys have consistently shown that male participation in sport is twice that of women in Royal Greenwich.
Seven sports programmes will run over a 15 month period from different community based locations in Woolwich: athletics and walk to run, basketball, cricket, exercise movement and dance, football, rugby, and sailing.
Luton
Active Luton will provide sporting activities for people aged 14 to 19 years to improve community integration within 3 specific areas of Luton: Marsh Farm, Lewsey Farm and Farley Hill, where crime and anti social behaviour is a major concern. Through strengthening the disparate groups within the 'silent majority' the community will come together on a stronger footing. The project will then bring the 3 communities together for sport, engagement and education projects.
Sports provided are football, cricket, basketball, athletics, street golf, health and fitness, and swimming
Manchester
The Wythenshawe Forum Trust will encourage community participation in activities starting in January 2014 and leading to a 7 day festival finale event at Manchester's former Commonwealth Games venues in July.
Activities will run for 24 weeks in Wythenshawe, East and North Manchester.
The project will include athletics (running), badminton, baseball/softball, basketball, boxing, cricket, cycling, dance, disability sport, football, golf, gymnastics, hockey, lacrosse, netball, rugby league, rugby union, running, swimming, squash, table tennis, tennis and water polo.
A volunteer development programme will recruit, train and deploy 600 games activators to support both the finale event and activity programmes.
Kirklees
Active and Connected Communities in North Kirklees will put on multi-sport taster opportunities at public events and open days in Dewsbury.
Project partners currently offer a range of sports: football, rugby league, cricket, bowls, tennis, cycling, exercise/fitness activities, swimming and boxing. This programme may also include running groups, walking groups, women only sessions, exercise/gym and fitness sessions and a range of multi sport and physical activity groups.
Published 14 November 2013