Initial £100 million for expert taskforce to help UK build and adopt next generation of safe AI
Prime Minister and Technology Secretary announce £100 million in funding for Foundation Model Taskforce.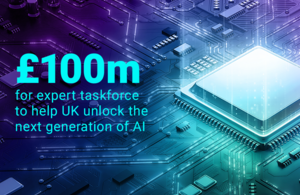 Prime Minister and Technology Secretary announce £100 million in initial start-up funding for taskforce responsible for accelerating the UK's capability in rapidly-emerging type of artificial intelligence - on top of £900 million investment into compute technology at Budget

foundation models, including large language models like ChatGPT and Google Bard, are AI systems trained on massive data sets which can be used for a wide range of tasks across the economy

investment will fund new government-industry taskforce to ensure sovereign capabilities and broad adoption of safe and reliable foundation models, helping cement the UK's position as a science and technology superpower by 2030
£100 million to kickstart the delivery of the government's major ambitions for the UK's capability in safe and reliable foundation models has been announced by the Prime Minister and Technology Secretary.
The Taskforce, modelled on the success of the COVID-19 Vaccines Taskforce, will develop the safe and reliable use of this pivotal artificial intelligence (AI) across the economy and ensure the UK is globally competitive in this strategic technology.
Foundation models - including large language models like ChatGPT and Google Bard - are a category of artificial intelligence systems trained on huge volumes of data such as text, images, video or audio to gain broad and sophisticated capabilities across many tasks.
​​With AI set to contribute billions of pounds to UK GDP, the work of the Taskforce will help deliver on the Prime Minister's priorities to grow our economy, whilst generating better outcomes for people across the country through better public services. Research suggests that the broad adoption of such systems could triple national productivity growth rates.
In areas like healthcare, this type of AI has enormous potential to speed up diagnoses, drug discovery and development. In education it could transform teachers' day-to-day work, freeing up their time to focus on delivering excellent teaching.
This technology is also predicted to raise global GDP by 7 percent over a decade, making its adoption a vital opportunity to grow the UK economy. To support businesses and public trust in these systems and drive their adoption, the Taskforce will work with the sector towards developing the safety and reliability of foundation models, both at a scientific and commercial level.
The investment will build the UK's 'sovereign' national capabilities so our public services can benefit from the transformational impact of this type of AI. The Taskforce will focus on opportunities to establish the UK as a world leader in foundation models and their applications across the economy, and acting as a global standard bearer for AI safety.
The funding will be invested by the Foundation Model Taskforce in foundation model infrastructure and public service procurement, to create opportunities for domestic innovation. The first pilots targeting public services are expected to launch in the next six months.
The Taskforce, announced as part of the Integrated Review Refresh last month, will bring together government and industry experts and report directly to the Prime Minister and Technology Secretary.
This follows last week's Cabinet meeting where Ministers agreed on the transformative potential of AI, the vital importance of retaining public confidence in its use, and the need for regulation that keeps people safe without preventing innovation.
Prime Minister Rishi Sunak said:
Harnessing the potential of AI provides enormous opportunities to grow our economy, create better-paid jobs, and build a better future through advances in healthcare and security.

By investing in emerging technologies through our new expert taskforce, we can continue to lead the way in developing safe and trustworthy AI as part of shaping a more innovative UK economy.
Science, Innovation and Technology Secretary Michelle Donelan said:
Developed responsibly, cutting-edge AI can have a transformative impact in nearly every industry. It can revolutionise the way we develop new medical treatments, tackle climate change and improve our public services, all while growing and future-proofing our economy.

We need to act now to seize the opportunities AI can offer us in the future. We're backing our expert taskforce with the funding to make our ambitions for an AI-enabled country a reality and keep the UK at the front of the pack in this emerging technology.

To ensure such leadership, the greatest capability we can develop is in the safety and reliability of such systems. This will ensure that the public and business have the trust they need to confidently adopt this technology and fully realise its benefits. That is exactly what this taskforce will prioritise.
The taskforce will be led by an expert Chair, who will be announced later in the summer. Matt Clifford, Chair of the Advanced Research and Innovation Agency, will advise the Prime Minister and Technology Secretary on the development of the taskforce while the appointment is ongoing.
Foundation models rely on significant compute power, and this investment comes on top of around £900 million for a new 'exascale' supercomputer and a dedicated AI Research Resource to equip the UK with the processing power it needs to support the next generation of AI innovation. The Taskforce will play a crucial role in ensuring the major, multi-year funding announced at the Budget for compute is strategically invested to prioritise and strengthen the UK's capability in foundation models.
The Taskforce will ensure the UK's capability in this rapidly developing area is built with safety and reliability at its core, in line with the approach set out in the AI Regulation White Paper published last month.
Doug Gurr, Chair,  The Alan Turing Institute, said:
We congratulate the government on this exciting investment which will keep the UK at the cutting edge of this transformative technology and look forward to continuing to work with all the relevant partners to help develop breakthrough AI applications in a safe, reliable, trustworthy and ethical way.
Marc Warner, CEO of Faculty, said:
Artificial intelligence is an epoch-defining technology, which - if deployed safely and responsibly - will revolutionise how we live and work. To reap the rewards and manage the risks, the UK urgently needs the public and private sector to work effectively together to seize the vast opportunities from foundational models. It is welcome to see initial funding towards this goal, which will help ensure safe deployment and protect national security, whilst harnessing AI's power to transform public services.
The funding follows Business Connect, an event bringing government and industry together to focus on making Britain the most innovative economy in the world. DSIT Minister of State George Freeman led a panel on the government's work in digital technology and life sciences and, together with the Chancellor, spoke about how these high-priority sectors could help accelerate economic growth across the UK.
Published 24 April 2023