Information for UK nationals living in Ireland
The British Embassy in Dublin is providing updated information to UK citizens living in Ireland on the UK's exit from the European Union.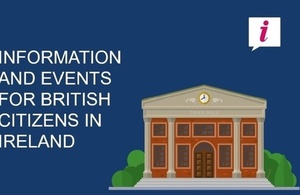 The British Embassy will continue to update UK citizens working and living in Ireland through social media channels, answering questions on what the UK's exit from the EU means for them.
Look out for future updates by signing up for email alerts on living in Ireland and following us on Facebook and Twitter.
Previous events in Ireland
For more information see:
Published 8 April 2019
Last updated 29 January 2020
+ show all updates
An updated summary/Q&A from our 2019 meetings is now available.

Citizen's Outreach Events held in West Cork and Dublin.

First published.