Ambiental: mapping flood risks from above the rain clouds
Brighton firm sees revenue and jobs growth as innovations in drone capability and real-time satellite data capture attract global interest.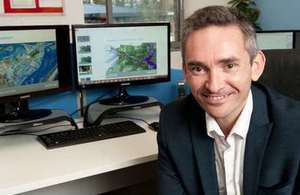 3D imagery aids emergency services
Animated fly-over of flood damage
Flood mapping software developed by a Brighton company has taken to the skies, adding even greater detail to its highly accurate 3D models of flooding events.
Ambiental provides flood modelling and risk consultancy to insurers, utilities, property professionals and governments as far afield as Australia.
Its Flowroute software, developed with support from Innovate UK, can predict the risk to any building anywhere in the UK, whether from river, tidal or flash flooding.
Now, use of cloud-piercing, day-night satellite data in real time promises to take the technology to new levels of sophistication and usability.
To get even closer to the action, Ambiental trialled a drone capability over flooded areas around Cockermouth in Cumbria. With photogrammetric software, it can build a 3D computer-generated model that offers an even more accurate picture for emergency services.
This NERC-funded research, carried out in collaboration with Cranfield University, Imperial College London, Loughborough University and Leicester University included the creation of 3-dimensional visualisations of the terrain for flooded areas using drones (see video above). This has the potential for improving flood early warning and damage assessment.
Job numbers doubled in five years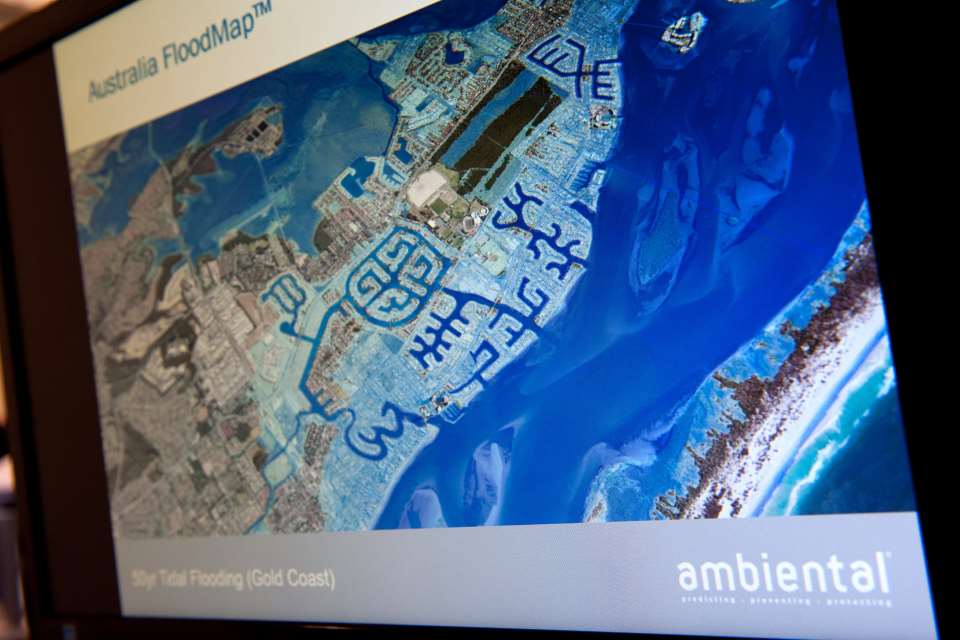 The CEO, Dr Justin Butler, is expecting revenues to leap 35% this year and now employs 25 people. That is double the number at Ambiental in 2011 when he first approached Innovate UK for help with using cloud servers to cope with increasing demand from insurers.
It was that three-month feasibility study that gave the company a revenue stream to keep growing, as Justin explained:
We were one of the first people to do this and it was technically very challenging. But it's given us a great platform for growth. We can do more and more address-level searches without taking up client IT resource.
This helps insurers to make much better and quicker decisions at the point of underwriting and premium setting," said Justin.
In 2012 Ambiental was awarded £14,000 for a 9-month Smart proof-of-market study to investigate the commercial viability of a service to provide flood risk data, initially to consumers. It has since become a subscription service – FloodScoreTM - aimed at insurers, conveyancers and property search organisations.
Justin believes that Ambiental would not be where it is today without Innovate UK.
It's very valuable. The first grant enabled us to build the technology. Subsequent funding helped us distribute and package the data in new ways.
It's still helping us develop new products such as Catastrophe (CAT) models which are used by re-insurers and brokers to estimate potential financial losses due flooding across large insured portfolios internationally.
For instance, the widespread flooding in the UK during 2014 showed how groundwater flooding poses a serious and unseen threat, especially in urban areas.
40% of revenues earned from exports
So Innovate UK has recently awarded Ambiental £62,500 towards the costs of a feasibility project with the British Geological Survey, looking to add a groundwater mapping and modelling capability to Flowroute.
Ambiental is part of two projects funded by the Space for Smarter Government Programme (SSGP) via UK Space Agency (UKSA), using SBRI supported by Innovate UK.
The company is a sub-contractor to Telespazio Vega for one project, working with the Environment Agency to build a national priority map for emergency services, using radar imagery from satellites and based on population density and flood risk.
Ambiental is also working as a lead contractor on the other project with the Environment Agency with the aim of improving national flood resilience through early warning, using intelligent satellite SAR (synthetic aperture radar) and hydrological modelling.
The company continues to build its business internationally and 40% of revenues are earned abroad, particularly in Australia where clients include major insurance brokers such as Aon Benfield. Justin added:
We can put together specialist teams to assess flood risk anywhere in the world – there's lots of new territory for us to explore. At the moment we're building flood models in Latin America and Australia, which are being used by global and regional insurance companies.
Published 17 May 2016
Last updated 25 May 2016
+ show all updates
Edited to include detail of NERC-funded project and collaborative partners.

First published.