News story
Indian finance minister visits UK for sixth annual UK-India economic and financial dialogue
Chancellor George Osborne welcomes finance minister Palaniappan Chidambaram and the Indian delegation to the UK for discussions and a visit to Europe's largest construction project, Crossrail.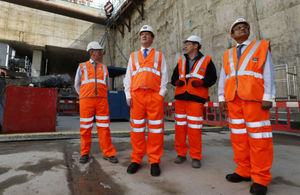 Indian finance minister Palaniappan Chidambaram and the Indian delegation were welcomed to Number 11 Thursday 16 May by UK Chancellor of the Exchequer George Osborne for the sixth annual UK-India economic and financial dialogue.
Trade and investment, infrastructure spending and financial services were just some of the topics discussed by the ministers, before they visited Crossrail in East London – along with UK Commercial Secretary to the Treasury Lord Deighton.
At the visit the ministers saw the tunnelling machine used to build Crossrail – Europe's largest construction project – and discussed opportunities for infrastructure investment for UK and Indian companies.
The trip builds on the success of previous talks between the two ministers, including during a recent meeting in London in January.
They were joined in the afternoon for more formal talks by other UK and Indian ministers and officials, including Vince Cable, UK Secretary of State for Business, Innovation and Skills and Shri Shaktikanta Das, Additional Secretary at the Indian Ministry of Finance's Department of Economic Affairs.
The Chancellor said:
India is one of the biggest emerging markets in the world, and we are determined that the UK shall be India's partner of choice. India is investing a huge amount in infrastructure, for instance in metro systems in Ahmedebad, Navi Mumbai and Kochi. The work in the UK which we have seen at Crossrail today is a great example of the best of British technology and expertise which we can deploy on such Indian infrastructure programmes.
The economic and financial dialogue meetings are always extremely constructive and I am very pleased to continue this important dialogue with Minister Chidambaram.
It was agreed during the visit that UK Trade and Investment and Tata – an Indian multinational company that encompasses several business sectors – will deliver a programme of education and mentoring for UK-based innovative technology SMEs seeking commercial partnerships with Indian companies.
It was also agreed that the Indian EXIM bank will work with UK Trade and Investment to promote the business opportunities and facilitate trade and investment between UK and Indian companies.
Read the joint statement by the Chancellor and the Indian finance minister following the economic and financial dialogue.
Published 16 May 2013