Independent review on the school capital system is published
The Department for Education publishes Sebastian James' independent Capital review.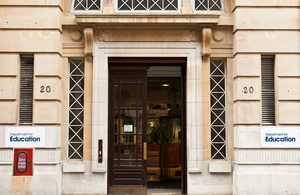 Sebastian James, Group Operations Director at Dixons Retail plc, today published his independent Capital review.
The report, along with a letter from Sebastian James to Secretary of State for Education Michael Gove, can be found in the associated resources section in the right-hand column of this page.
Welcoming the report, Michael Gove MP said:
I thank Sebastian James and his review team for their incredibly hard work and Partnerships for Schools for their help with the review. I welcome this independent report and we will respond soon. The system we inherited had profound problems. We must have a system for school building which is much simpler, less bureaucratic, and which targets priority projects.
The Capital review team is made up of a panel of experts led by Sebastian James - Group Operations Director of Dixons Retail plc. The other members of the team are:
Kevin Grace, Tesco; Director of Property Services
Barry Quirk; Chief Executive of Lewisham
John Hood; former Vice-Chancellor of University of Oxford
Sir John Egan; former Chief Executive of Jaguar and BAA
Ben Gordon; Chief Executive of Mothercare plc.
Education Secretary Michael Gove announced on 5 July 2010 the Capital Review under the chairmanship of Sebastian James.
DfE media enquiries
Central newsdesk - for journalists 020 7783 8300
Published 8 April 2011