Press release
Increase in housebuilding starts show market has turned the corner
New figures show government action is getting Britain building and helping to provide the homes this country needs, Brandon Lewis said.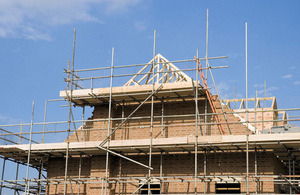 The latest housebuilding start figures show there were 29,510 new homes started between April and June this year - 6% higher than the previous quarter, and a third higher than the same time last year. Seasonally adjusted private enterprise completions increased by 11%.
This increase was seen across the country, with 178 of the 326 councils in England reporting an increase in housebuilding starts over the year.
Getting Britain building
Today's (15 August 2013) figures confirm that the housing market has turned a corner since the end of the unsustainable housing boom, with developers looking to build and aspiring homeowners looking to buy.
This has been boosted by the wide range of government measures including:
new housing supply at its highest level since 2008, with a total 334,000 new homes built in England over the past 3 years

over 150,000 new affordable homes built over the past 3 years thanks to the wide range of affordable housing programmes, including £19.5 billion of public and private investment over this Spending Review, and over £22 billion investment in the 3 years after that

interest rates kept low thanks to government action to tackle the deficit inherited from the last administration

over 10,000 reservations for newly-built homes in just the first 4 months of the government's Help to Buy: Equity Loan scheme

the Funding for Lending scheme, which has increased the availability of competitively priced mortgages
All these efforts have led to the highest numbers of first-time buyers and the lowest level of repossessions since 2007.
Communities Minister Brandon Lewis said:
Under the last administration, housebuilding fell to its lowest peacetime rate since the 1920s. But today's figures clearly show government action is bringing confidence back into the housing market and getting Britain building again, with starts increasing by a third year-on-year.

We've already delivered over 330,000 new homes over the past 3 years, and 150,000 affordable homes. There is more to do, but today's figures reinforce the momentum towards getting Britain building again.
Further information
See the housebuilding statistics for the June quarter published today.
Published 15 August 2013