Press release
Improving patient choice
Patients in parts of London, Manchester and Salford and Nottingham will shortly be able to register with a GP practice of their choice for the first time.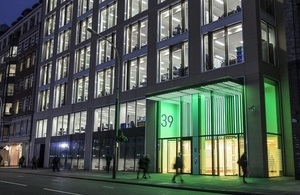 Under Government plans to allow patients to choose the GP surgery that best suits their needs, from April they will be free to register with any practice in their city, for example near their workplace or home.
It means people in these major cities, like commuters who are often away from their local area during the working day, will find it easier to see their doctor where it suits them.
The pilot scheme will run for one year, and will also benefit people who are moving home and wish to remain with their preferred practice, and families who would like a practice near to their children's school.
Health Secretary Andrew Lansley said:
"I know from speaking to patients that they are frustrated that they are only allowed to go to the GP nearest their home rather than the one that best suits their needs.
"So I am delighted that from the end of this month, patients in London, Manchester and Salford and Nottingham will be able to start seeing their GP at a time and place that suits them.
"This is part of a range of measures we introducing to shift the NHS to put patients' interests and desires at the heart of services."
Chair of Central London CCG, Ruth O'Hare, said:
"We have a lot of people coming into London to work who need to take time off if they need to see a GP. A much simpler solution would be to allow them to register with a GP practice who has signed up to deliver this service, close to their work, where they could pop out for an hour and then go back to work."
Notes for Editors:
For media enquiries please ring the Department of Health newsdesk on 020 7210 5221.
The pilot sites were first announced in December 2012. They cover Central London, Manchester/Salford and Nottingham.  The PCTs involved in the pilots are Westminster, City & Hackney, Tower Hamlets, Manchester, Salford and Nottingham City.  GP practices in these PCT areas will be able to join the pilot on a voluntary basis.
The pilot sites have selected because they have high numbers of commuters travelling into the area each day, and one of the sites (Nottingham) is an existing live 111 pilot site.
Participation will be voluntary.  The funding to pay for patients who use surgeries on a consultation-only basis will be capped at £2m. 
The pilots will last for one year and will be subjected to an independent evaluation organised by the Department of Health.
Published 4 April 2012