News story
Improved Police.uk launched
The revamped police.uk website was launched today with a fresher look and new functions.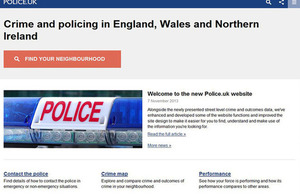 The new site will give the public even more access to information about crime problems and how they are dealt with in their area.
New user-friendly interactive functions include:
Email alerts informing people when crime data for their area is updated;
The ability to compare performances of their local police with similar forces;
Crime prevention advice relating to specific offences which site users search for.
The site, which has received 634 million hits since it was created in 2011, has been redesigned to make it easier for the public to find the information they want. It continues to attract more than 471,000 visits per month.
People can use police.uk to set up personalised "crime maps" – information on crime, anti-social behaviour and criminal justice outcomes - which they can then share with other website users.
Home Secretary Theresa May said:
Detailed, street-level crime maps are one of the IT successes of this Government. Re-launching police.uk, with a new look and new functions will give the public even more access to information about crime and how it is dealt with in their community.

The site empowers the public to hold their local police and wider criminal justice system to account and ensure crime continues to be driven down.
We are determined to ensure the police and criminal justice system is as transparent as possible and publishing tailored information on police.uk is a key way of doing that.
Crime maps help people see what crime takes place where they live, how much of it is detected and what happens when the perpetrator is identified.
Published 7 November 2013