News story
Immigration Minister sees Border Force in action
A group of six would-be illegal immigrants were stopped from reaching the UK after Border Force found them hiding in a lorry in Calais.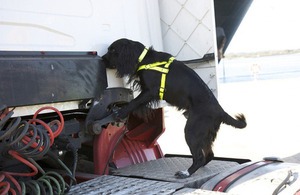 Immigration Minister Mark Harper this week saw first-hand Border Force prevent six would-be illegal immigrants from reaching the UK as he visited Calais and Coquelles.
Detector dog Bounder and Border Force officers discovered the six Syrian nationals aboard a lorry at Calais on Wednesday (24 July) .
Stopping illegal migrants at border
The discovery took place as the Minister was visiting the UK's controls in northern France. Earlier on the same day Border Force officers discovered another 19 people attempting to sneak through border controls by hiding in the back of a refrigerated lorry.
The UK's border controls in France and Belgium are a unique example of international co-operation and allow most security checks to be carried out on passengers and vehicles before they travel to the UK.
Immigration Minister sees Border Force in action
Mark Harper said:
It's a very good example of our operational work that we do in France at our juxtaposed controls protecting the United Kingdom from people who are trying to enter illegally.
During his visit, Mark Harper saw searches take place on freight and vehicles at Calais and Coquelles, including some of the technology that Border Force deploys to combat illegal migration and smuggling.
Smuggling
In the 2012-13 financial year 11,000 attempts to cross the Channel illegally were prevented.
As well as using sniffer dogs, Border Force officers also use physical searches, heartbeat detectors and carbon dioxide probes to find people hiding in vehicles and freight.
The would-be illegal immigrants discovered on Wednesday were handed over to French border police.
Border Force seizures
Over the last three days Border Force officers have made a range of interceptions at ports in France and England.
They include
seizing five million smuggled cigarettes on Wednesday (24 July), 3,500 litres of wine on Thursday (25 July) and 900,000 grams of rolling tobacco on Tuesday (23 July), at the port of Dover
the discovery of 15 people in three different lorries at Calais attempting to sneak into the UK
finding 12 would-be illegal immigrants in one lorry at Coquelles on Tuesday (23 July)
confiscating 29 pallets of beer found in a lorry at Felixstowe
impounding three CS sprays, an imitation handgun and a selection of ammunition at Coquelles on Friday (26 July)
Published 26 July 2013
Last updated 26 July 2013
+ show all updates
Added a You Tube video
First published.