"I congratulate Sudan and South Sudan on bringing these intensive weeks of negotiation to a positive outcome"
Intervention delivered by UK Minister Mark Simmonds to the High Level Sudan / South Sudan Consultative Forum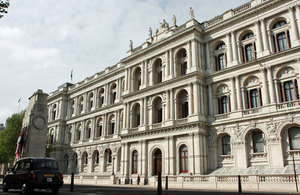 Thank you, Mr Chairman.
It was very welcome news to hear a few hours ago of the signing of significant agreements between the two Presidents on borders, security and other issues. I congratulate Sudan and South Sudan on bringing these intensive weeks of negotiation to a positive outcome.
I also want to applaud the unstinting efforts of the three former Presidents, lead by President Mbeki, and their staff, in facilitating those agreements.
The hard work, of course, does not end here. Implementation of the agreements made will require sustained effort, leadership and a continued spirit of compromise from the two Governments. We in the international community should be ready to lend all possible assistance as the parties enter the next phase.
There should also be no pause in efforts to find a solution to the question of Abyei, where regrettably no agreement was reached. In resolving its final status, we should reaffirm that Abyei can be a model for inter-community relations along the whole border, where the rights of both permanent residents and nomadic peoples are fully protected, and where a joint vision of economic development is implemented across borders.
The sustained effort on all fronts will not be easy. But only by seeing agreements put into practice, will the people of both countries see the development and security that both deserve. Drawing a line under cross-border issues will also allow the governments to address the many internal challenges they face.
Despite today's positive news, we must not forget the people of Southern Kordofan and Blue Nile. It is also critical that we see full, impartial humanitarian access to all those affected by the conflicts in Southern Kordofan and Blue Nile, and that the Tripartite Agreements signed in August are put into immediate effect.
That should go hand in hand, as called for in the AU Roadmap and UN Security Council resolution 2046, with talks between the Government of Sudan and SPLM North to reach a negotiated political settlement.
And it will further help to ensure security along the border between Sudan and South Sudan.
Today, I would like to congratulate the Governments of Sudan and South Sudan, but also to challenge and encourage them to continue on the road to peace that your people deserve, and continue to build on the hard-won progress you have made so far. It is in both countries' interests to establish a peaceful, prosperous and mutually beneficial relationship. The UK stands ready to assist you.
Search the news archive
Published 27 September 2012