Press release
Humanitarian crisis in Syria: Foreign Secretary statement
Foreign Secretary Boris Johnson has issued a statement on the humanitarian crisis in Eastern Ghouta and Idlib in Syria.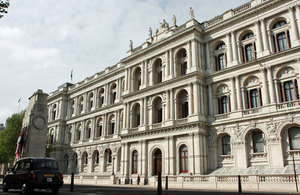 The Foreign Secretary said:
The scale of death and destruction in Syria has already exceeded the limits of human comprehension. But over the last week we've heard of new levels of suffering in Eastern Ghouta and Idlib, among these are reports of chemical weapons use.

From Idlib come reports of devastating Syrian regime and Russian airstrikes, including on medical facilities, resulting in scores of civilian deaths. This has to stop.

The world is looking at the Asad regime, Russia and Iran: you hold the keys not only to the end of this obscene conflict, but to the safety, humanitarian aid and basic medical treatment that is being denied to millions of people right now in Syria. Your failure to provide this is simply unconscionable.
Further information
Published 8 February 2018