Human Rights in Afghanistan
British Ambassador speaks at the inauguration of the Afghan Government's Human Rights Support Unit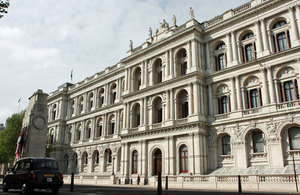 On 29 September 2010, Afghanistan's Ministry of Justice and the United Nations Development Programme (UNDP) officially opened the new Human Rights Support Unit, based with the Ministry of Justice.
As he opened the Unit, the Minister of Justice, His Excellency Dr Habibullah Ghalib, emphasised the importance of human rights in Islam and committed the Afghan government to keeping its promises to its people on the protection and promotion of human rights.
The UK, alongside Canada, Germany, Denmark, Norway and Switzerland, has contributed funding and support to establishing the Unit, which will be responsible for ensuring that the Afghan government meets its national and international human rights obligations.
The Unit will work across the Afghan government, providing human rights training for government officials and ensuring Afghanistan's laws and policies comply with national and international human rights standards. The Unit will also work with the Afghanistan Independent Human Rights Commission and other civil society organisations.
Speaking at the inauguration, Her Majesty's Ambassador to Afghanistan, Sir William Patey, congratulated the Afghan government on the opening of the Unit and said that this was an important demonstration of the government's commitment to human rights. He went on to say:
"President Karzai yesterday appealed to all Afghans to work together to bring peace and stability to Afghanistan. The United Kingdom is clear is about the central role that universal human rights and values play in achieving this long-term security and prosperity.
Last week at the United Nations General Assembly, the United Kingdom's Deputy Prime Minister said that winning the "battle of ideas" is as important as military prowess. We need to demonstrate that the liberal values of equality, law and self-determination are not the property of one nation or hemisphere. They are not Western values but global values, and as the Minister of Justice made clear, Islamic values. We are all responsible for promoting and protecting them and we will all benefit from them.
This Unit puts the responsibility for the human rights of Afghan citizens where it should be - firmly in the hands of Afghans. The Unit will provide support and leadership on human rights across the Afghan government and it is the responsibility of all Ministries to work closely with the Unit to make it a success. This will not always be easy but progress depends on commitment from every part of government…
The Unit has already overcome not inconsiderable challenges to get to this point. We look forward to seeing what it can achieve in the future and to seeing the commitment of the Government of Afghanistan to making this Unit a success."
Published 6 October 2010