World news story
Human Rights Council 39: UK Statement for the item 4 General Debate
The UK raised its concerns on LGBT rights in Chechnya, the situation in the DPRK, human rights violations in Nicaragua and South Sudan, press freedom in Egypt, and the treatment of Uyghurs in Xinjiang.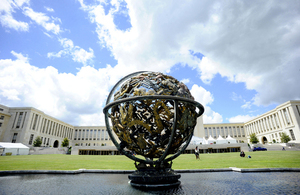 Thank you, Mr President,
The United Kingdom would like to refer to interventions elsewhere on Burma, Syria, Democratic Republic of Congo, Burundi and Sudan.
We call on Russia to respect all fundamental freedoms in line with its commitments, and to investigate thoroughly the persecution of the LGBT community and human rights activists in Chechnya. We call on Russia to grant international human rights monitors access to illegally annexed Crimea and release all Ukrainian political prisoners.
We have grave concerns about the human rights situation in the DPRK. We call on the DPRK government to engage constructively with the international community during its next Universal Periodic Review in 2019 and ahead of that publicly to deliver on the more than 200 recommendations it accepted in 2014.
We remain deeply concerned by the situation in Nicaragua, particularly the reports of human rights violations and abuses in the country. For stability to return the Government must take responsibility for ending the violence, engage meaningfully in an inclusive dialogue including with the OHCHR, and ensure that any human rights violations and abuses are fully and independently investigated.
We are concerned about the continuing restrictions on freedom of expression in Egypt, including new laws that further suppress media freedoms, and the arrests of activists, bloggers and journalists. The 75 death sentences issued on 8 September are deeply worrying; we urge the Egyptian government to suspend the issuance of mass death sentences.
Turning to China, we are concerned about the situation in Xinjiang, and in particular the treatment of Uyghurs, with credible reports of approximately one million people having been held in "political re-education" camps, restrictions to freedom of religion or belief, mass surveillance and travel restrictions. We continue to call on China to release those detained for peacefully exercising their rights.
Finally, the South Sudanese people continue to suffer unspeakable human rights abuses and violations, often at the hands of State security and defence forces. South Sudan's leaders must ensure that these appalling acts cease immediately and that the perpetrators are brought to justice.
Thank you, Mr President
Published 18 September 2018