Press release
Human Rights and Democracy Report 2012 - Sudan
Overall, the human rights situation in Sudan deteriorated in 2012, including new restrictions on civil and political rights.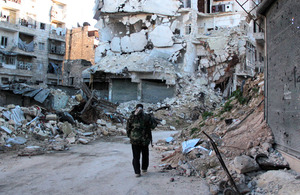 Human rights in countries of concern - Sudan
The ongoing conflict in Darfur and the border areas with South Sudan led to a worsening humanitarian situation, with continued reports of indiscriminate military tactics employed by the Sudanese Armed Forces leading to the displacement of hundreds of thousands of people within Sudan and into South Sudan. The UN's Office for the Coordination of Humanitarian Affairs (OCHA) reported at the end of 2012 that 695,000 people were thought to have been affected by the conflict. A further 240,000 refugees are estimated to have fled to South Sudan and Ethiopia. Since 2009, the government has placed severe restrictions on the operations of international NGOs, particularly those working on protection issues. These restrictions were tightened in June when Sudan's Humanitarian Affairs Commission closed down the activities of a number of organisations in the east of Sudan, reflecting a lack of serious commitment by the government to improve the human rights situation. The government showed some willingness to cooperate with the newly appointed UN Independent Expert on Human Rights when he visited in June, although he was not permitted to travel to areas of conflict. The government's Advisory Council on Human Rights has agreed to a more formalised dialogue with European Union missions in Sudan.
The UK's human rights objectives in 2012 focused on resolving conflict (through significant support to the African Union High-Level Implementation Panel), securing humanitarian access in conflict areas, and supporting civil and political freedoms. Although there was some progress in September towards resolving disagreements between Sudan and South Sudan, this had not translated into progress on human rights in the border areas by the end of the year. The government and the Sudan People's Liberation Movement-North (SPLM-N) showed no real willingness to come to the negotiating table. This was a major obstacle to progress on humanitarian access and the protection of civilians in South Kordofan and Blue Nile.
In 2013, the UK will continue to focus on conflict resolution and humanitarian access as priorities for our work. We are supporting the implementation of existing Sudan/South Sudan agreements and the ongoing efforts to resolve outstanding areas of dispute, including on the status of Abyei. We will continue to urge the government and the SPLM-N to negotiate a political settlement and to agree access for the delivery of humanitarian assistance in the conflict areas. The FCO and DFID are working together to support steps towards free and fair elections in 2014 and 2015. These steps should include a transparent and participatory constitutional review process.
Further information
Read and comment in English on Human rights in countries of concern - Sudan
Read and comment on the Human Rights and Democracy Report 2012 in full in English
Published 15 April 2013