Press release
Hugo Swire marks anniversary of protests in Burma
Foreign Office Minister Hugo Swire marks the 25th anniversary of protests in Burma and remembers those who struggled for greater democracy.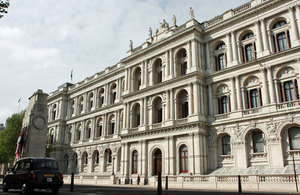 Today marks the 25th anniversary of large-scale protests in 1988, during which hundreds of thousands of Burmese people took to the streets to call for democracy. The protests were brutally put down by the then military regime and drew wide spread international condemnation.
Commenting on the anniversary, FCO Minister of State for Asia, Hugo Swire, said:
This anniversary is a chance to remember all those who have struggled for greater democracy in Burma, in particular the many who lost their lives in 1988 or spent years in prison because of their beliefs.

It is also a chance to look forward to the future. Some of the key figures in the 1988 protests, now leaders of the 'Generation 88' movement, recently visited London at the invitation of the British Council and Foreign and Commonwealth Office. Their freedom to make such a visit and to discuss openly the challenges ahead for Burma is testament to the changes that are taking place in that country.

The British Government will continue to work together with the Burmese government, opposition forces including Aung San Suu Kyi and the National League for Democracy, and all of Burma's ethnic groups to support the desires of the people of Burma for peace, and greater economic and political reform.
Further information:
Read about the 88 Generation Student leaders visit to the UK
Follow Foreign Office Minister Hugo Swire on twitter @HugoSwire
Follow the Foreign Office on twitter @foreignoffice
Follow the Foreign Office on facebook and Google+
Subscribe to the announcements feed or email alerts to get our latest news and announcements
Published 8 August 2013