News story
Hugo Swire hails Japan as "our closest partner in Asia"
Foreign Office Minister Hugo Swire will meet members of the new administration in Japan this week to discuss trade and security issues.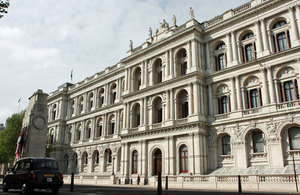 Speaking ahead of the visit, Hugo Swire said:
Whether it is global trade or international peacekeeping our relationship with Japan is fundamental to UK foreign policy, not just in Asia but around the world.
I am delighted to be able to meet my Japanese counterpart Shunichi Suzuki, Senior Parliamentary Vice Minister for Foreign Affairs, to discuss our closely overlapping areas of interest, including Asian regional affairs and the UK's priorities for the G8 presidency.
Japanese foreign direct investment in the UK is £26billion a year and maintaining the strength of that relationship will be at the forefront of his discussions with Government ministers. Mr. Swire will also launch talks on defence cooperation, and open the British Council's Global Education Dialogue event in Tokyo.
Further Information
Find out more about Hugo Swire's visit to Japan by following him on twitter @HugoSwire
Published 14 January 2013