Press release
Hugo Swire comments on UK-China Human Rights Dialogue
Following the conclusion of the UK-China Human Rights Dialogue, Minister Hugo Swire has welcomed its contribution to the bilateral relationship.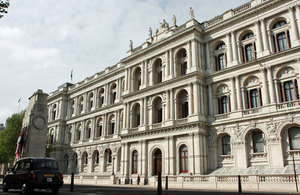 The Dialogue, one of the regular formal meetings held between the UK and China, took place in London on Monday and Tuesday. Senior officials attended from both countries. Mr Swire said:
I am pleased that the 21st Round of the UK-China Human Rights Dialogue has taken place, on 19-20 May. Senior officials discussed the full range of our concerns around international civil and political rights, including urging the release of those people detained without charge in relation to the 25th anniversary of the Tiananmen Square incident.

The government believes this Dialogue is an important part of our bilateral relationship and that open exchanges are vital in progressing that. It was of particular importance that we held these discussions in a year when both the UK and China have made commitments to further strengthen their respect and protection of human rights as members of the UN Human Rights Council. Respect for human rights is fundamental for growth and stability. I am grateful for the valuable contribution made by external experts and civil society organisations to the talks.
Further information
Follow Foreign Office Minister Hugo Swire on twitter @HugoSwire
Follow the Foreign Office on twitter @foreignoffice
Follow the Foreign Office on facebook and Google+
Published 21 May 2014