Press release
HS2 Ltd launches Design Vision
HS2 Ltd sets out how it will use design to achieve its ambitious social, economic and environmental goals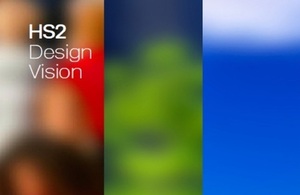 HS2 Ltd, the company designing and building Britain's new high-speed rail system launches its Design Vision, a framework document to guide the work of its engineering, architectural and design teams to help make High Speed Two an exemplar national project.
Developed with the input of leading UK designers, the HS2 Design Vision aims to ensure that all aspects of HS2 will add up to create one transformational experience and that design is used effectively to achieve the ambitious social, economic and environmental goals for the nation.
There are three major themes in the HS2 Design Vision on People, Place and Time.
The first theme on People commits HS2 to design for everyone to benefit and enjoy, with priorities on designing for the needs of diverse audiences, engaging with communities and inspiring excellence through creative talent.
The second theme is to design for a sense of Place. It leads on designing places and spaces that support quality of life, celebrating the local within a national narrative and also demonstrating commitment to the natural world.
The third theme is to stand the test of Time. The priorities are adaptation for future generations, placing a premium on the personal time of customers and making the most of the time available to design.
Welcoming the Design Vision, HS2 Ltd Chief Executive, Simon Kirby said:
We have some of the best engineering expertise and creative designers in the world. Through the Design Vision we can combine our talents and ingenuity to ensure that HS2 is transformational and admired around the world.
Head of Architecture, Laura Kidd, said:
HS2 has developed ambitious clear criteria for design success that places public value first. I'm confident that we have a robust system that we can make visible, on which we can report progress and on which we can be can held to account.
HS2 design adviser David Kester, former CEO of the UK Design Council, said:
Infrastructure on this scale inevitably involves many thousands of engineers, architects, and designers. The Design Vision provides a strong design mandate. This will help focus on what is important, deliver great and effective solutions and a seamless experience for the UK.
Press and media enquiries
For enquiries during office working hours, Monday to Friday, 9am to 5pm 020 7944 6149
For enquiries outside of these hours and at the weekend 020 7944 0550
The press and media enquiries line is for accredited journalists only
Published 23 March 2015