Press release
HS2 Growth Taskforce comes to Yorkshire to secure maximum boost for region's economy
HS2 Growth Taskforce roadshow visits Yorkshire.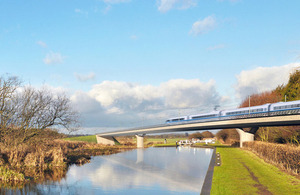 The HS2 Growth Taskforce is meeting key figures from across Yorkshire today (20 November 2013) as part of a series of roadshows designed to ensure regions maximise the benefits of high speed rail.
HS2 is set to play a key role in job creation, regeneration and development across the county. A new high speed station at Leeds New Lane adjacent to the existing station will allow for easy movement between the 2. The journey time to and from London will be cut from 2 hours 12 minutes to 1 hour 23 minutes, while the stations in Leeds, Sheffield, East Midlands and Birmingham will each be less than 20 minutes apart, making daily commuting easy.
Combined with the current programme of electrification and plans for completing the Northern Hub, this improved connectivity will unlock the enormous potential and opportunities that Yorkshire has to offer – making it a more attractive place to locate and do business.
Land around the station will be a highly attractive investment proposition for developers and the Growth Taskforce will be looking at how to make the most of this opportunity. For example redevelopment of King's Cross Station has seen public investment of £500 million attract £2.2 billion of private sector investment.
Commercial Secretary to the Treasury and Chair of the HS2 Growth Taskforce Lord Deighton said:
HS2 will give a massive boost to Yorkshire, creating new employment and business opportunities, freeing up capacity on the railways and improving connections. An estimated 70% of jobs from HS2 are expected to be outside the capital, which is why it is so vital that the Growth Taskforce meets with city and business leaders from across the country.

Britain cannot afford to leave the economic future of the north to an overcrowded, 200 year old railway. But we don't have to wait to feel the benefits; the Growth Taskforce is supporting regions to act now so the rewards can be felt long before the railway opens.

It is vital that Yorkshire does everything possible to maximise the benefits that the new north-south line offers.
Taskforce member and Chair of the Leeds City Region Local Enterprise Partnership Roger Marsh said:
We are determined to squeeze out every possible benefit from HS2 for Leeds and the wider city region, so I am very pleased to welcome the Growth Taskforce to the city.

Whilst HS2 is a vital game changer for Britain as a whole, it will also provide a wealth of lasting opportunities for us regionally. Our businesses will be better able to compete on the global stage and our economy will get a boost from the creation of jobs. That said, enhanced connectivity to and from Yorkshire also requires significant improvements across the City Region to maximise the economic return, locally and nationally.

This is a must-have opportunity and we are determined to seize it with both hands.
The government believes HS2 will be a key driver of jobs and growth. It is estimated that the new station in Leeds could support the construction of around 2,400 new houses after up to 19,700 jobs are opened up. Research published recently by KPMG showed that HS2 could boost productivity in West Yorkshire – including Leeds, Bradford, Calderdale, Wakefield and Kirklees - by £1 billion per year within five years of the railway opening. South Yorkshire – Barnsley, Doncaster, Rotherham and Sheffield - will see productivity gains valued at between £500 million and £900 million a year. The government sees the Taskforce as crucial in unlocking this potential.
For places not immediately on the HS2 route, Network Rail's report, Better Connections, shows how many could benefit from quicker, more frequent journeys and faster connections on existing lines. It explains that very little additional capacity can be squeezed from the existing railway. HS2 will provide Britain's main rail arteries with new capacity, taking significant inter-city traffic off the existing network and allowing more local and regional services to run on these lines.
Membership of the independent expert group comprising senior business, academia and local government representatives was originally confirmed in July.
The Taskforce published its initial report last month setting out challenges for government and city leaders. In it Lord Deighton says towns and cities across the country need to act now to become 'HS2 ready'. The final report with recommendations is due early next year.
Crucially, the regional roadshows also involve representatives from non station cities ensuring the Taskforce hears from as many people as possible.
While in Leeds, Lord Deighton will meet with local council leaders and representatives from businesses and universities to discuss the opportunities HS2 will bring.
HS2 will:
better connect 18 of Britain's cities either directly or indirectly
provide 351 miles of track linking London to Birmingham and Birmingham to Manchester and Leeds
see trains will run at 225 miles per hour, with the potential to increase this to 250 miles per hour
see Phase 1 between London and the West Midlands open in 2026 and Phase 2 to Leeds and Manchester open in 2033
see 5 hourly services departing Leeds: 3 to London and 2 to Birmingham. There will be 5 hourly arrivals: 3 from London and 2 from Birmingham
Find out what else the government is doing to support and grow the UK economy
HS2 and major projects media enquiries
Press enquiries 020 7944 3021
Out of hours 020 7944 4292
Switchboard 0300 330 3000
Published 20 November 2013