News story
How to be savvy when doing your online shopping
Know your consumer rights when buying Christmas presents this year.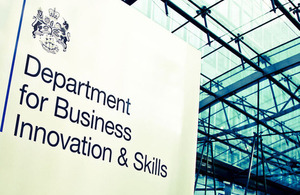 It is important that you know your rights in the run-up to the festive season - it is predicted £6.4 billion will be spent online alone over Christmas, up from £5.5 billion in December 2009.
However, recent research from Which? has shown that returns and refunds policies are not widely known or considered when making a purchase.
BIS has conducted research as part of the Know Your Consumer Rights campaign with Consumer Focus, the OFT and Consumer Direct. The research showed that many are still uncertain of their entitlements, and three-quarters of UK consumers don't know that they have an extra right when buying online - shoppers have an extra 7-day cooling off period for most purchases.
You should be able to buy goods that:
Fit the description given - Goods have to conform to the descriptions given to them.
Be of satisfactory quality - You have the right for the goods you buy to be safe, work properly and be free from defects.
Be suitable for purpose - Anything that is sold to you must be capable of doing what it's meant for.
Christmas shopping top tips
Online is fine
If you buy goods on the internet, you have the same rights as if you were shopping on the high street. You also have the right to a seven day 'cooling off' period from the date you receive the goods, with the right to a full refund regardless of the reason for return. Remember though that this doesn't apply in some situations, for example if the goods were personalised for you, were perishable, or are not in the same condition as when they were delivered.
Returning it to the retailer
When you buy goods, your contract is with the retailer not the manufacturer and you should always go back to the retailer in the first instance to request an exchange or refund. If you have a manufacturer's warranty you can contact them as well as the retailer. And don't delay - act as soon as you discover the fault.
No receipt required
You do not need a receipt to obtain a refund for faulty goods. However, you may be required to show proof of purchase with a credit card slip or bank or credit card statement.
Check at the checkout
Although you do not have the legal right to take back goods bought on the high street just because you've changed your mind, many stores do offer a 'no questions asked' refund or exchange policy. Check the store policy when you buy.
Links
Published 18 November 2010