Housing help for military families
Waiting list priority for wounded warriors and widows The families of those killed in the line of duty will be at the front of the queue for…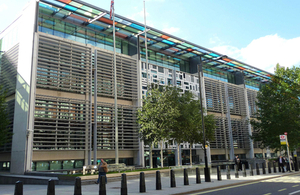 Waiting list priority for wounded warriors and widows
The families of those killed in the line of duty will be at the front of the queue for social housing, Housing Minister Grant Shapps said today.
The Minister outlined how a change to the law will give top priority for homes not just to members of the Armed Forces with pressing housing needs, but also to their loved ones if anything happens to them.
Former servicemen and women, and those members of the Reserve Forces injured in action, will also be placed first in line if they have an urgent need for social housing.
Security when it's needed most
The Minister said that the reforms announced today would ensure that those who have risked their lives for our country - and their families - would have the security they need at the most difficult times.
In the past, members of the Armed Forces could be pushed towards the bottom of local waiting lists as the nature of their job and the need to move from base to base often meant they couldn't prove the local connection to the area they wanted to live in.
But changes announced today in new guidance for local councils will ensure that an exception is made for military families, so that they are not at this disadvantage when applying for a council home.
Housing Minister Grant Shapps said:
This nation's heroes, serving in military hotspots around the world, put their lives on the line for us on a daily basis and it's only right that we should have the support in place for them and their loved ones when they need it most.

That's why I'm ending the unfair treatment of military families on the waiting list. But I want to be sure that the safety net of social housing is not just there for those serving our country, but also the families that support them. So today, I'm planning for the first time to extend this help to those who lose loved ones on the front line, as well as men and women injured in the line of duty.
Tackling the tick-box culture
Mr Shapps said he also wants to end the perception that council houses are only available to those willing to play the system. Today's new guidance will also give councils and housing associations more freedom to use their discretion to reward ambition and achievement - ensuring homes go to the most in need such as hard working families - instead of those who merely know how to tick the most boxes.
So today's new guidance gives councils greater flexibility and encouragement to:
stop prospective tenants who already own another property from benefiting from a council property they don't need;
support those who are willing to provide a loving home for children - whether they are adopters or fosterers, or other family and friend carers, and
offer tailored advice and support to those whose housing needs may be better met by private rented and other forms of housing, and who may not qualify to join the local social housing waiting list.
This is part of a series of radical reforms that the Government has made to ensure the precious resource of social housing is used most effectively, Other measures include:
giving councils more flexibility over tenure rules, so that housing can be offered to those who need it most, when they need it;
giving more freedom to councils to help homeless households by offering suitable private sector accommodation;
introducing HomeSwap Direct, helping tenants to see potential home-swaps in every part of the country; and
reforming council house financing, so that councils can keep their rents and plan ahead to maintain their homes.
stopping paying for empty rooms, in order to focus on bringing down waiting lists which doubled under the last Administration.
Notes to editors
Allocation of accommodation: guidance for local housing authorities in England is published today and can be found at: www.communities.gov.uk/publications/housing/allocationaccommodationguide.
Published 29 June 2012