Press release
Hospital merger referred for in-depth inquiry
The CMA has today referred a proposed merger of 2 hospital trusts in Surrey for an in-depth investigation to assess whether it would be in patients' interests.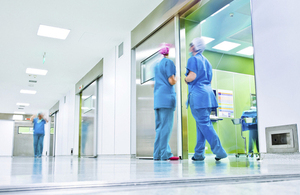 The Competition and Markets Authority (CMA) found that the merger could result in adverse effects for patients by reducing choice and competition across a range of elective specialties.
Ashford and St Peter's Hospitals NHS Foundation Trust and Royal Surrey County Hospital NHS Foundation Trust provide clinical services from their sites in Ashford, Chertsey and Guildford. Ashford and St Peter's has a total of 570 beds and Royal Surrey County Hospital has 520 beds.
The ability of patients and commissioning bodies to choose between hospitals gives healthcare providers incentives to improve the quality of their services for the benefit of patients. The CMA's role is to examine the impact that the merger could have on patient choice and the quality of healthcare services provided. The CMA undertakes an evidence-based assessment of the effects of NHS mergers on competition and aims to ensure that such mergers do not result in lower levels of quality of healthcare services for patients.
The CMA has found that in several elective specialty services (6 inpatient and 7 outpatient markets) the merger could significantly reduce quality for patients by removing the incentives that currently exist for the trusts to attract patient referrals from each other. These specialties are high volume activities which, collectively, affect tens of thousands of patients each year.
Monitor has provided advice to the CMA on the relevant customer benefits which could result from the merger. It advised that the merger was likely to give rise to benefits in relation to rota reconfigurations to allow for 7-day working in 3 specialty areas (stroke, interventional radiology and gastroenterology) and these reconfigurations would result in improved emergency care and quicker discharge for more than a 1,000 patients.
However, on the basis of the available evidence, the CMA in its initial view has not found that these benefits outweighed its concerns relating to the potential loss of competition. Consequently, it has decided that a fuller investigation into whether the merger would be against patients' interests is required.
Andrea Coscelli, Executive Director, Markets and Mergers, said:
Our job is to look at the evidence and examine the impact that a proposed merger could have on patient choice and the quality of healthcare services provided. Tens of thousands of patients a year are treated by the trusts in the specialties we've looked at and could be potentially affected by the loss of choice they currently have. If the trusts no longer have to attract patients who might choose to go elsewhere, it could mean their incentive to maintain and improve quality in those specialties is reduced.

We acknowledge that there may be some benefits which result from the merger but given the extent of our concerns and the number of specialties and patients involved, we feel it is necessary to look at this merger in greater depth to ensure that it is in patients' interests.
Notes for editors
The CMA is the UK's primary competition and consumer authority. It is an independent non-ministerial government department with responsibility for carrying out investigations into mergers, markets and the regulated industries and enforcing competition and consumer law. From 1 April 2014 it took over the functions of the Competition Commission and the competition and certain consumer functions of the Office of Fair Trading, as amended by the Enterprise and Regulatory Reform Act 2013.
At phase 1, if the CMA is of the view a merger raises a realistic prospect of a substantial lessening of competition (SLC) it must refer the merger for a phase 2 investigation, unless an exception to the duty to refer applies. Section 33(2)(c) of the Enterprise Act 2002 allows the CMA to exercise its discretion not to refer a merger giving rise to a realistic prospect of an SLC for a phase 2 investigation if it believes it is or may be the case that relevant customer benefits in relation to the creation of the relevant merger situation would outweigh the SLC concerned and any adverse effects resulting from it.
The CMA notified Monitor when it decided to carry out an investigation under the UK merger control rules, pursuant to section 79 of the Health and Social Care Act 2012, which applies to mergers involving NHS foundation trusts. Monitor provided advice on the effect of the merger under investigation and this will be published on the case page as soon as is reasonably practicable.
The proposed merger will be referred to an in-depth phase 2 investigation unless acceptable undertakings are offered. The parties have 5 working days in which to offer acceptable undertakings after which the CMA has 5 working days in which to consider whether or not they are acceptable. Should no undertakings be offered or those that are offered are not acceptable, the proposed merger will be referred to a phase 2 investigation.
Under the Enterprise Act 2002 a relevant merger situation is or will be created if 2 or more enterprises have ceased or will cease to be distinct enterprises; and the value of the turnover in the United Kingdom of the enterprise being taken over exceeds £70 million; or as a result of the transaction, in relation to the supply of goods or services of any description, a 25% share of supply in the United Kingdom (or a substantial part of it) is created or enhanced.
This is the first phase 2 healthcare merger investigation in 2 years and the second such investigation since the Health and Social Care Act in 2012; 5 mergers have been cleared in this time.
Enquiries should be directed to Simon Belgard, (simon.belgard@cma.gsi.gov.uk) on 020 3738 6472. For more information on the CMA, see our homepage, or follow us on Twitter @CMAgovuk, Flickr and LinkedIn. Sign up to our email alerts to receive updates on merger cases.
Published 18 February 2015