Press release
Homophobia and transphobia: Premier league clubs show the red card
All clubs in the premier league have signed up to the government's sports charter to tackle homophobia and transphobia in sport.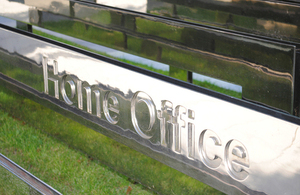 All 20 clubs have committed to challenge discrimination and work to rid football of homophobic and transphobic abuse both in the stands and on the field.
The voluntary charter, launched by the home office in March last year, unites everyone who loves sport behind a pledge to reject homophobia and transphobia.
Government ministers have been urging clubs, official bodies and prominent individuals to sign up. To date nearly 3,000 sports fans and organisations, including the premier league, have done so.
With world famous premier league clubs on board the charter's message will reach more fans than ever.
Home office equalities minister, Lynne Featherstone said:
'The whole world admires the skill and competitive drama on display in our football grounds but too often we also see the worst of intolerance and discrimination.
'That's why the government launched the sports charter last year. It's a rallying cry for all of us to tackle homophobia and transphobia in sport. Everyone with an interest in sport will want to spread the message that homophobic and transphobic abuse is never acceptable.
'Nearly 3,000 individuals and clubs have already signed up and I'm delighted that premier league clubs have taken a stand by signing the charter too. It sends a really strong signal when clubs in the best league in the world say enough is enough.'
Premier league chief executive, Richard Scudamore said:
'The premier league and our member clubs believe that everyone should be able to participate in, watch and enjoy sport - whoever they are and whatever their background.
'When the sports charter to tackle homophobia and transphobia in sport was launched in 2011 the premier league signed it and we are pleased to re-affirm our commitment to it today with each of our clubs signing it individually.'
Minister for sport and the olympics, Hugh Robertson said:
'Sport should be open and welcoming to everyone regardless of race, religion, creed or sexuality. I applaud the premier league for their work in helping to get this message out, and would encourage every sport to adopt this charter.'
The first professional football club to sign was Wycombe Wanderers in October 2011. They were followed by Charlton Athletic, Dagenham and Redbridge, Huddersfield Town, Notts County, Peterborough United, Bristol City, Bradford City and Carlisle United football club.
Other supporters include Ben Cohen, Stephen Fry, David Furnish, Billie Jean King and Martina Navratilova, along with the football association, the lawn tennis association, the England and Wales cricket board, the rugby football league, the rugby football union and the London organising committee of the olympic and paralympics games.
The charter forms part of government work to ensure equal treatment for lesbian, gay, bisexual and transgender people, which will see action being taken on a range of issues, from civil partnerships to work to promote better recording of hate crimes, and a commitment to promote rights abroad.
Members of the public can back the campaign on facebook.  To sign the charter 'like' the 'I love sport, but I hate homophobia and transphobia' facebook page.
Notes to Editors
1. The 20 clubs in the Premier League are:
Arsenal
Aston Villa
Blackburn Rovers
Bolton Wanderers
Chelsea
Everton
Fulham
Liverpool
Manchester City
Manchester United
Newcastle United
Norwich City
Queen's Park Rangers
Stoke City
Sunderland
Swansea City
Tottenham Hotspur
West Bromich Albion
Wigan Athletic
Wolverhampton Wanderers
2. The Charter states:
we believe that everyone should be able to participate in and enjoy sport - whoever they are and whatever their background.
we believe that sport is about fairness and equality, respect and dignity. Sport teaches individuals how to strive and succeed, how to cope with success and disappointment, and brings people together with a common goal.
we are committed to making these values a reality for lesbian, gay, bisexual and transgender people. We will work together, and individually, to rid sport of homophobia and transphobia.
we will make sport a welcome place for everyone - for those participating in sport, those attending sporting events and for those working or volunteering in sports at any level.
we will work with all these groups to ensure they have a voice, and to challenge unacceptable behaviour.
3. According to research conducted by Stonewall:
People who work in the football industry believe there has been a lack of leadership at the highest levels of football in addressing the issue of anti-gay abuse and discrimination.
30 per cent of players, managers, coaches and referees said they knew of at least one gay professional player
The majority of respondents believe that gay players are prevented from coming out by their clubs and their agents
7 in 10 fans attending a match in the last five years have heard anti-gay language and abuse on the terraces.
78 per cent thought openly gay players would face hostility from fans.
Published 2 February 2012