News story
Homecare survey generates ideas to help improve services
Joint homecare survey by Department of Health and Guardian Social Care Network prompts new ideas for improving homecare.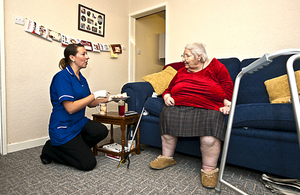 The ideas were among comments received from more than 1000 service users, their friends and family, providers of care and care professionals.
Jon Rouse, Director General for Social Care, will bring together leaders from the sector to shortlist ideas and to develop them into clear actions, working in partnership with relevant organisations and individuals.
Suggestions to improve homecare included:
care providers having an online or telephone booking system like online groceries for people to book a care 'slot' linked to individual care workers
using tablets to record care visits with access for the family doctor, local nurse and the person's family
creating local care teams so intimate care is never delivered by a stranger
Jon Rouse has also written a blog about the survey and homecare innovation.
People who took part in the survey said the most important factors in homecare are:
friendly, respectful and capable care workers
sufficient time for care
choice about services
Care and Support Minister Norman Lamb said:
We need better care now for the 300,000 people currently getting homecare and for the sake of the millions more who will need it in years to come. That's why we have conducted this survey, so we could invite anyone - from councils to those receiving care - to tell us how to make care better.

This survey has generated some really interesting ideas to improve homecare and I look forward to working with the care sector to see how we can take these ideas to the next stage.
The Guardian has produced an infographic to break down the responses.
Published 30 October 2013