News story
Home Secretary welcomes PCCs
The election of police and crime commissioners across England in Wales will be a landmark in the government's programme of police reform.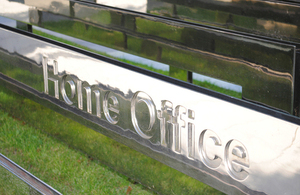 Friday, 25 May 2012
Home Secretary foreword
In November, the election of police and crime commissioners across England in Wales will be a landmark in the government's radical programme of police reform.
At the heart of that programme is our commitment to replace bureaucratic accountability run from Whitehall with democratic accountability run from local communities. We've scrapped central targets and slashed police paperwork, freeing the equivalent of 2,100 police officers to get back on the streets. We've returned discretion to police officers, letting them make more decisions about charging criminals.
And we've begun to bring real local accountability to policing: crime maps allow people to find out about crimes in their area, beat meetings give people the chance to question local police officers, and we are compelling the authorities to take action against anti-social behaviour when local people complain.
Police and crime commissioners will have the power to appoint the chief constable and, if necessary, to dismiss them. They will set the policing plan for their force area, guided by the views of voters. They will hold chief constables to account for delivering the plan and cutting crime.
They will also have an important informal role. Their mandate from the public will allow them to get things done in a way that the existing police authorities cannot. If the local council isn't working well enough with the police to tackle noisy neighbours, public drinking or off-licences selling alcohol to children, the Commissioner will bring them together. If the local health services aren't working with the police to tackle offending by drug addicts, the commissioner will make sure they do.
Commissioners will be responsible, too, for setting police budgets, so they will want to squeeze every penny of value out of police spending. The government is doing what it can from the centre, but with savings to be made in procurement, police IT and various back office functions, commissioners will have a role in driving down costs at a local level. With police spending running at almost £14 billion a year, the public will demand it.
But the most important thing that any police and crime commissioner will need to do is cut crime. And, working with the police, they will know how to do that better than any bureaucrat or minister in Whitehall.
Published 25 May 2012