News story
Home Secretary statement: Finsbury Park incident
Home Secretary Amber Rudd has given the following statement in reaction to the incident at Finsbury Park.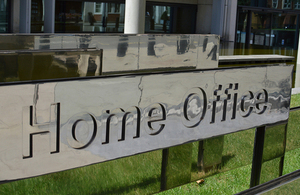 (Updated 2:07pm)
Today the Prime Minister gave a statement on the recent attack in Finsbury Park. The Prime Minister said after 12:20am, the Metropolitan Police received reports that a van had been driven into a crowd of people on Seven Sisters Road. Officers were in the immediate vicinity as the attack unfolded and responded within 1 minute, with police declaring it a terrorist incident within 8 minutes.
Earlier, the Home Secretary said:
"A van was driven into innocent people in Finsbury Park and the police are treating it as a terrorist incident.
"We know the police were on hand immediately. Our priority must be to support the people who have been victims of this and to make sure the investigation is done with all due speed and professionalism.
"Londoners have been hit by a series of attacks and have actually been nothing short of heroic. We will always make sure that everyone is protected. We have a places of worship fund, which we announced last summer, which is there to protect places of worship like mosques. We will make sure we do all we can to reduce these sorts of attacks.
"We will allow the police and Counter Terrorism police who are involved to make sure the investigation continues and will continue to keep people aware of what progress is being made."
(5.40am)
Home Secretary Amber Rudd said:
"My thoughts are with all those affected by the appalling incident at Finsbury Park. I am in contact with the Metropolitan Police who have confirmed it is being investigated by their Counter Terrorism Command.
"Yesterday, like so many others around the country, I took part in the Great Get Together to celebrate the values of Jo Cox. It was powerful and moving to see the community come together in a show of solidarity. We must all continue to stand together, resolute, against all those who try to divide us and spread hate and fear."
Published 19 June 2017
Last updated 19 June 2017
+ show all updates
Statement updated.
First published.