Home Secretary meets Pakistani counterpart
The Home Secretary and the Pakistani Interior Minister, Senator Rehman Malik, met yesterday to discuss a range of issues.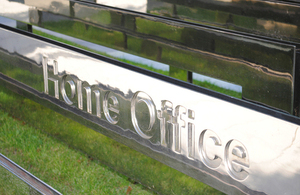 Both the ministers jointly addressed the UK based Pakistani media after their meeting.
Horrific assassination 
The Home Secretary said: 'Both countries have suffered at the hands of international terrorism and this has had a devastating effect on the lives of ordinary citizens in both countries. 
 
'Only last week we saw the horrific assassination of Shahbaz Bhatti, the only Christian Cabinet Minister in Pakistan, and I want to condemn this cowardly act and send my condolences to his family, friends and colleagues.'
Improved visa service
The ministers agreed that due to the ongoing cooperation between the two countries there have been extensive improvements to the UK visa service in Pakistan.
Senator Malik added that his country was going to take action on security at airports. 'Aviation security is a growing threat to both countries and I am ready to host a global conference in Pakistan which will look at different ways to tackle this emerging threat,' he told members of the international press.'
Published 11 March 2011