News story
Home Secretary completes first visit to Afghanistan
Visit focused on British-Afghan co-operation in areas including police training, counter-narcotics, counter-terrorism and migration.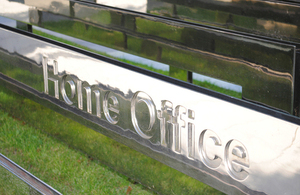 In addition to meeting President Karzai and spending time with British soldiers based at Camp Souter, Mrs May met senior politicians including Minister Patang, Minister of the Interior, Minister Osmani, Minister of Counter-Narcotics, and Dr Jamaher Anwari, Minister of Refugees and Repatriation. The programme also included visits to a number of UK-mentored and supported Afghan-led counter-narcotics agencies. 
Following the visit to Kabul on 25 and 26 February, Mrs May said:
'My priorities as Home Secretary are to cut crime, reduce net migration and tackle terrorism.  In today's world that means taking action at an international as well as a national and local level.
'A stable and secure Afghanistan is not only important for the Afghan people, it is also vital to the safety and security of the UK. 
'As the number of British troops in the country reduces, we will continue to ensure Afghanistan can never again be allowed to provide a safe haven for international terrorists to plot murder in our cities. 
'Serious and organised crime costs the UK billions, but the real cost is to the communities it harms and the lives it destroys. Much of the heroin on our streets, which cuts short young people's lives, can be traced back to the fields of Afghanistan.
'It is clear from my meetings with President Karzai and other key partners in Afghanistan that we share a determination to work together to protect the future of both our countries and their people.'
Published 1 March 2013