News story
Home Secretary attends signing of Colombian peace deal
Peace deal marks the end of over 50 years of internal conflict in South American country.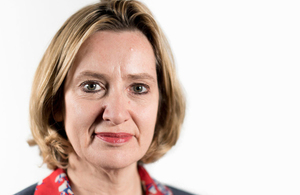 Home Secretary Amber Rudd will today join heads of state and senior representatives from more than 30 countries to witness the signing of a historic peace deal between the government of Colombia and the FARC-EP in Cartagena, Colombia.
In her first official visit to Colombia, she will attend a ceremony at the San Pedro Claver church and the formal signing of the peace deal at the Cartagena Convention Centre. Representatives of the EU, UN, IMF and World Bank will also be in attendance.
The peace deal marks the end of over 50 years of internal conflict between the Colombian government and the FARC, a left-wing guerrilla group. This was the longest-running conflict in the Americas and claimed more than 220,000 lives.
Following 4 years of formal talks, the peace deal was announced on 23 August 2016. The Colombian government has announced that a public vote will be held on the deal in October 2016.
International support
The UK led on drafting a UN Security Council Resolution to secure international support for verifying a ceasefire. By the end of this financial year, the UK will have spent more than £10 million supporting post-conflict planning, security transition and justice reform in Colombia. This includes £4.2 million to the UN Post-Conflict Trust Fund.
Home Secretary Amber Rudd said:
I congratulate the government of Colombia and the FARC-EP on reaching this historic peace agreement. Colombia is enjoying its most peaceful period in more than a generation and the UK has consistently been a strong and proud supporter of the peace process.

We will remain a firm partner through the difficult period of implementing the peace accords, which matter not just for Colombia, but for regional stability. Britain is committed to helping Colombia confront any new threats that emerge. This will include through diplomatic channels at the UN.

We look forward to welcoming President Santos to the UK in November on the first-ever state visit to the UK of a Colombian head of state, as we continue to strengthen our cooperation on security, justice and trade.
Published 26 September 2016