Home Secretary announces Prevent review
A review of the government's strategy for preventing violent extremism and the new reviewer of counter terrorism powers announced today.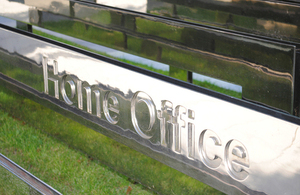 The review of Prevent will assess how the current strand of the government's counter-terrorism programme can work more effectively. The conclusions will inform a refreshed strategy to be published next year.
Lord Carlile of Berriew QC will provide expert, independent oversight on the review. And the Home Secretary announced he would be replaced in his role as independent reviewer of counter-terrorism powers by David Anderson QC in the new year.
The new Prevent strategy will separate work to prevent terrorism from work to promote integration, which will be led by the Department for Communities and Local Government.
 
Home Secretary Theresa May said: 'Stopping radicalisation depends on an integrated society. We can all play a part in defeating extremism by defending British values and speaking out against the false ideologies of the extremists.
'Preventing terrorism is not a substitute for investigating and arresting terrorists - police and security agencies will continue to do that. But we have to look at how we stop people getting to that stage in the first place.
'I believe the Prevent programme isn't working as well as it could and that is why we are reviewing it. I want a strategy that is effective and properly focused.'
The review will, among other things:
consider the purpose and scope of the Prevent strategy, its overlap and links with other areas of government policy and its delivery at local level
examine the role of institutions - such as prisons, higher and further education bodies, schools and mosques - in the delivery of Prevent
consider the role of other Prevent delivery partners, including the police and other statutory bodies
consider how activity on Prevent in the UK can be joined up with work overseas
examine monitoring and evaluation structures to ensure effectiveness
make recommendations for a revised Prevent strategy
In conjunction with the review launch, the Home Secretary extended Lord Carlile's tenure as Independent Reviewer of Terrorism Legislation until 31 December and announced he would be succeeded by David Anderson QC early in the new year.
Mr Anderson is a specialist in EU and public law and human rights and has been a QC for more than ten years. He is also a visiting professor of law at King's College, London.
Home Secretary Theresa May said: 'I am pleased David Anderson QC has agreed to take up the important role of reviewing our counter-terrorism legislation.
'He will bring a wealth of experience from his ten years as a QC to the job and will continue the excellent work carried out by Lord Carlile.'
The Home Secretary will report back on the findings of the Prevent review early next year.
Notes to editors
1. The Association of Chief Police Officers is also reviewing the way it delivers the government's Prevent strategy over a similar time-frame.
2. The Department for Communities and Local Government is developing a new approach to integration and is looking at ways to tackle wider forms of extremism.
3. During his extension as reviewer of terrorism legislation, Lord Carlile will undertake a brief review of the arrest, detention and release of five men during the Pope's recent State Visit. He will decide whether use of the Terrorism Act 2000 was appropriate and consider whether any lessons can be learned.
Published 9 November 2010