News story
Home Secretary and Foreign Office minister visit scene of 'despicable' terrorist attack in Tunisia
Home Secretary Theresa May and Foreign Office minister Tobias Ellwood have visited the scene of the terrorist attack in Sousse to pay their respects to the victims of Friday's atrocity.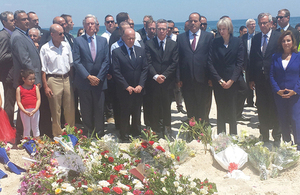 They also met the Tunisian Interior Minister to assess what more can be done – both on the ground to help those directly affected and, more widely, on intelligence and security matters to build capacity to deal with terrorism.
Speaking at joint press conference with Tunisian, German and French counterparts, the Home Secretary said:
What happened here last Friday was a despicable act of cruelty. How could a place of such beauty, of relaxation and happiness be turned into such a scene of brutality and destruction?

I've heard the horror stories of people who went through this and our thoughts are with the victims and their families. I have heard stories of great bravery as well - the young man who shielded his fiancée from bullets; the staff at the hotel who protected their guests.

I would like to thank the Tunisian Government and authorities, and the staff here at the hotel for all that they have done to help and support the victims of this despicable act.

I had a meeting this morning with interior minister colleagues and it has shown the determination we all have to fight against this perverted ideology that is causing this death and destruction.

We are very clear that the terrorists will not win. We will be united in working together to defeat them. We are united also to defend our values.

As the Prime Minister has made clear this morning, we are resolved to defeat those who would do us harm. To defeat those who would undermine our freedom and democracy, and ensure terrorists do not win.

That is our resolve. We are united in that.
Both Ministers also met UK police and forensic investigators who have travelled to Tunisia to assist the authorities, as well as consular staff and HM Ambassador.
The Home Secretary stood shoulder to shoulder with Tunisian interior minister Mohamed Najem Gharsalli, German interior minister Thomas de Maiziere and French interior minister Bernard Cazeneuve as they paid their respects to the victims at the scene of the attack.
They laid wreaths on the beach where dozens of tourists, including at least 18 Britons, were killed on Friday.
The number of Britons confirmed dead is expected to rise.
Further information
For further advice and information following the terrorist incident in Tunisia, including travel advice and concerns for those who may be involved, please see the FCO Tunisia travel advice page
Published 29 June 2015