Press release
Higher standards as thousands more take GCSEs at the right time
Results for 15-year-olds soar after policy change and the overall A* to C rate also increases.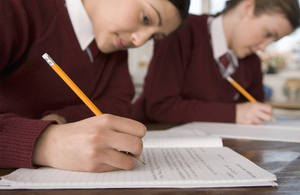 GCSE results out today show a rise in standards after thousands more pupils took their exams this year at the right time, School Reform Minister Nick Gibb said.
Congratulating pupils and teachers for their hard work and results, Nick Gibb pointed to a 40% drop in the number of entries by pupils aged 15 or under - before most have studied GCSE courses for the full 2 years.
The results also show that the early entry change has had a dramatic effect on standards, with 19% of 15-year-olds getting A* or As (up 5 percentage points) and 68% getting A* to C grades (up 10 percentage points).
The figures from the Joint Council for Qualifications (JCQ) show that the number of entries by those aged 15 or under has fallen:
from 806,000 last year to 489,000 for all GCSEs
from 170,000 last year to just 39,000 for maths
from 92,000 last year to 59,000 for English and English Literature
There have also been falls in the number of early entries to other key subjects, including languages, history and geography.
At the same time the number of entries to EBacc subjects at the age of 16 has remained strong, consolidating the big jumps seen last year, when the EBacc took effect for the first time.
In particular there has been a four-fold increase in the proportion of pupils taking the new computer science GCSE, which was endorsed by industry experts including BCS (the British Computer Society), and which counts towards the EBacc.
Schools Reform Minister Nick Gibb said:
I congratulate all pupils and teachers on the GCSE results today. I hope they have achieved the grades their hard work deserves.

Pupils and parents can feel increasingly confident that the exam system is now working in their favour - that the GCSEs and subjects they are taking are those most valued by colleges, employers and universities, and will help young people to succeed in modern Britain.

An exams system had developed that worked against the best efforts of teachers and the best interests of pupils. These results show our plan for education is correcting that. The number of children now taking exams at the right time, the number studying for academic GCSEs and the higher standards achieved are hugely encouraging.
EBacc
The big jumps seen in EBacc subjects last year, when many subjects saw record numbers of entries, have been consolidated.
At age 16, despite a fall in the number of pupils:
geography entries are up 6,000 (a 0.1 percentage point rise from last year)
history entries are up marginally, by just over 1,000 (no change in terms of proportion)
languages are down marginally, by just under 1,000 - a fall in French has been off-set by a rise in Spanish
Science
Science entries for 16-year-olds are up 16,000. This is largely down to increases to computer science GCSE, with no significant change in the number of pupils studying 3 science GCSEs, either through biology, chemistry and physics GCSE or through the combination of core, additional and further additional science GCSEs, which cover the same material as individual sciences.
Results
The A* to C pass rate has risen from 68.1% in 2013 to 68.8% in 2014. Long term the pass rate has remained stable with a fall of 0.2%, since 2010.
The proportion of girls achieving A* to C was 73.1% compared to 64.3% for boys.
The implementation of Professor Alison Wolf's recommendations not to recognise thousands of poor quality, and often large, qualifications will have raised the standards of vocational qualifications taken by pupils. Details on entries and results for vocational qualifications will be available in October.
DfE enquiries
Central newsdesk 020 7783 8300
General enquiries 0370 000 2288
Published 21 August 2014