Press release
Helping train operators improve services for cyclists
DfT has launched a new cycle-rail toolkit aimed at making it easier for people to combine cycling with rail travel.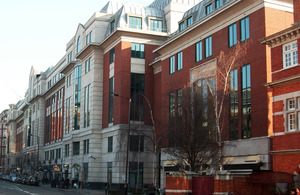 A new cycle-rail toolkit to aid train operators and make it easier for people to combine cycling with rail travel is being launched today (22 August 2012) by Transport Minister Norman Baker.
The minister asked the Association of Train Operating Companies (ATOC) to develop guidance on cycle and rail integration for train operating companies and this toolkit is the result of their work. The toolkit will help train operators improve provision for cyclists by setting out how to provide good facilities, encourage new cycle-rail users and promote and market these facilities to ensure that as many people as possible benefit.
The guidance has been developed in consultation with train operating companies (TOCs), DfT, the wider rail industry and cycling campaign bodies and draws good practice from both national and international examples. It is aimed at TOC managers and local authorities and will be a useful tool for those looking to improve access to rail services or considering bidding for new rail franchises.
Local Transport Minister Norman Baker said:
This new toolkit provides some useful guidance and examples to help train operating companies get things right for cyclists. It highlights what will be effective in encouraging more people to make their door-to-door journey using a combination of rail and cycling.

Cycling is good for the environment, good for your health and can save you money. By getting rail passengers to leave their cars at home and take the bike instead, traffic congestion can be cut and carbon emissions slashed - it's a win-win.

I hope train operators and local authorities take advantage of this useful information.
Michael Roberts, Chief Executive of ATOC, said:
Cyclists are an important part of the railway's future and train companies are absolutely committed to improving facilities so that ever more people can leave their bikes at stations and travel by rail.

The toolkit shows how train companies have improved conditions for cyclists and highlights the industry's commitment to even better facilities, which will help those already in the saddle, and encourage yet more people to ride their bikes to and from their local train stations.
The guidance is available from ATOC and will be one of main focuses of the ATOC Interchange and Integrated Transport Conference, at which the minister is the keynote speaker in Manchester on September 27 2012.
Notes to editors
The toolkit is available to download free of charge.
The rail and cycling industries recognise best practise in the delivery of services for cyclists every year at an awards ceremony hosted by the All Party Cycling Group, in Parliament each year.
Roads media enquiries
Media enquiries 020 7944 3021
Out of hours media enquiries 020 7944 4292
Switchboard 0300 330 3000
Published 22 August 2012