News story
Helping to bring superfast broadband to the hardest to reach UK areas
Maria Miller sets up talks between small broadband providers and BT.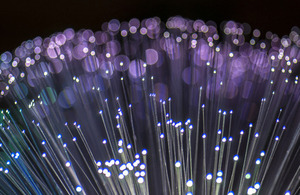 Culture Secretary Maria Miller has written to small broadband providers seeking to roll out superfast networks to the most rural parts of the UK, encouraging them to work with BT to identify the areas which most need help.
In the letter Maria Miller said:
The Rural Community Broadband Fund has been established to help provide funding to ensure we reach some of those hardest to reach areas. However, we are aware there is widespread concern that projects have not been able to identify the 10% areas necessary to enable applications under the Fund to be progressed.
I am determined to find a way of remedying this situation, by ensuring you have access to the information you need. I would therefore like to invite you to a session with myself, Ed Vaizey and senior representatives from BT to see what can be done to provide you with the relevant information, and the support, you need to determine how your applications should be progressed.
Rural Community Broadband Fund
We are investing £530 million to bring high speed broadband to rural communities. To improve broadband services for the hardest-to-reach rural areas DCMS and the Department for Environment, Food and Rural Affairs created the Rural Community Broadband Fund which will give up to £20 million to help small community projects get broadband speeds that are faster than 2Mbps.
Further information
Published 4 July 2013