News story
Help to Buy: mortgage guarantee launches today
Natwest, RBS, Halifax and Bank of Scotland will start offering new Help to Buy mortgages this week.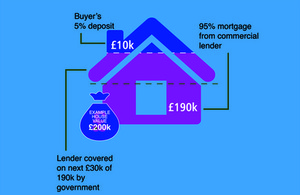 A landmark £12billion scheme to help thousands of people buy a home of their own will be officially launched today (Tues 8 Oct) by the Prime Minister and Chancellor.
High Street banks including Natwest, RBS, Halifax and Bank of Scotland will start offering new Help to Buy mortgages this week.
And today Virgin Money has also confirmed they will participate in the scheme, and will be offering new guaranteed mortgages to borrowers in the New Year. Aldermore Bank has confirmed that it is joining the scheme in January, and is exploring whether this date can be brought forward.
Natwest and RBS customers will be able to start the process of applying for a mortgage today, with other banks to follow in the next few days.
The Help to Buy: mortgage guarantee is aimed at thousands of people frozen out of the housing market because they cannot afford large deposits of up to 20 per cent of a property's value.
It means someone trying to buy a £200,000 house currently needs to save up a deposit of £40,000.
Leading banks will offer a range of new Help to Buy mortgages – up to 95 per cent of the property's value – for homes worth up to £600,000.
Under the scheme, buyers will only need a deposit of as little as 5 per cent.
Depending on the size of deposit, the government will then guarantee up to 15 per cent of the property's value, in return for a fee from the lender.
There will be scheme advertisements in national newspapers from tomorrow, banks are braced for a flood of interest from the public.
The launch of the scheme has been brought forward by three months, as the details are finalised and lenders are in a position to start offering the mortgages.
Lenders can start offering the mortgages now, and they will be guaranteed by the government from January 2014. As it usually takes a few months for borrowers to go through the mortgage completion process, this delay is not a problem for lenders. If borrowers do complete before January their mortgage will be included in the scheme.
Today we have also confirmed the final scheme rules including the level of the commercial fee the lenders will be charged.
On the launch of the scheme the Prime Minister said:
Too many hardworking people are finding it impossible to buy their own home - people who can afford the monthly mortgage payments but haven't got rich parents and can't pay the deposit up front.

There is a need for Government to act. Buying your first home is about far more than four walls to sleep at night. It's somewhere to put down roots and raise a family. It's an investment for the future. Above all, it's a sign that everything you've put in has been worth it.

Our Help to Buy Equity Loans, have already helped over 15000 people buy a new home. But we've got to go further and finish the job we've started.

So from today, thousands of people will be able to get a foot on the housing ladder by applying for the new Help to Buy mortgage guarantee. If you've got 5 per cent of the funds for a mortgage deposit, we're providing a guarantee to the banks to help you get the rest.

Help to Buy is going to make the dream of home ownership a reality for many who would otherwise have been shut out. This goes right to the heart of my vision for Britain - a country where everyone who works hard can get on in life.

Moves such as Help to Buy will also encourage housebuilding. If potential buyers can't buy, builders won't build - so this is an important part of unlocking the market.
The Chancellor of the Exchequer, George Osborne said:
Through Help to Buy: mortgage guarantee I want to help those families that have saved for years, earn decent salaries, but cannot afford the deposits currently being asked for by the banks. I want young people to have the same chance of getting on the property ladder as their parents and grandparents.

Too many people are still being denied the dream of owning their own home, which is why we have brought forward the launch of this scheme, so as of today borrowers can start applying for a mortgage with a five per cent deposit.
Published 8 October 2013
Last updated 8 October 2013
+ show all updates
Links to infographics added
First published.