Press release
Help to breathe new life into housing developments
New funding will help local areas unlock locally-led housing developments and accelerate local growth.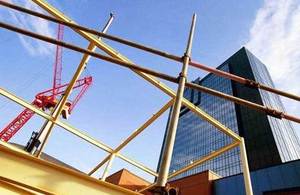 From today (23 April 2014) local leaders can bid for a share of £50 million to invest in infrastructure that supports new homes. A prospectus published by the government explains how to take advantage of this opportunity and apply for support.
The investment will be made available in 2015 to 2016 through the Local Growth Fund to unlock locally-led housing developments of between 250 and 1,499 units which are struggling to move forward.
This is on top of a further £1 billion fund, available as loans to developers to get their large-scale housing developments off the ground.
And it comes alongside wider plans to regenerate some of the country's most run-down estates, delivering thousands of new homes in central London in the process.
Communities Secretary Eric Pickles said:
We've delivered 420,000 new homes since 2010 - including 170,000 new affordable homes. I'm determined we go even further.

Today's multi-million pound package will help get workers back onto locally-led housing developments that had been stalled with the end of the unsustainable housing boom in 2008, and deliver the homes and local growth communities want to see.

But I also don't want those stuck on rundown estates to be forgotten. That's why we're also investing a further £150 million to breathe new life into those areas, and deliver homes that residents can be proud of for years to come.
Housing Minister Kris Hopkins said:
We're doing all we can to get the country building, and provide developers with a chance to get on site and start building local housing schemes that are vital for supporting local economic growth.

Today's £50 million fund will help deliver the infrastructure local communities need to support new homes, and comes on top of the £1 billion we're making available to unlock large-scale sites that stalled at the end of the unsustainable housing boom.

This substantial investment will lead to thousands of new homes across the country, and deliver new career opportunities in the growing construction industry.
Using local knowledge to build more homes
Last year the government committed to work with Local Enterprise Partnerships to agree local Growth Deals and introduced the Local Growth Fund to provide the levers to do this.
Local leaders will be able to use their knowledge, creativity and ambition to identify local priorities, and provide investment for infrastructure that will help drive forward these housing schemes and support local economic growth.
The £50 million funding will be provided using the successful model already established for the Large Sites Infrastructure Programme , which last week (14 April 2014) invited bids for £1 billion of investment and a package of support to unlock local housing schemes of over 1,500 homes.
Overall the construction of up to 250,000 new homes between 2015 and 2020 will be supported. This builds on the success of the current Local Infrastructure Fund which, alongside brokerage support, is already accelerating development of almost 80,000 homes in areas such as Cranbrook in Devon, and Wokingham in Berkshire.
The £1 billion fund will help deliver locally-led developments in communities that want more growth and jobs in their area, and will assist those areas with ideas for a new generation of garden cities.
These larger settlements are characterised by designs that keep long-term local needs in mind, include good transport connections and use previously developed brownfield land wherever possible.
Delivering more homes in London
Today (23 April 2014), ministers also outlined how they plan to use £150 million set aside in this year's Budget to kick-start and accelerate the regeneration of some of London's most deprived housing estates.
Despite record numbers of people living in the capital by 2021, the inner boroughs will still contain 1.7 million fewer people than they did in 1939.
Initial Savills research indicates that rediscovering just half of this former housing capacity would supply the whole of London's projected housing needs for the next 17 years.
Government plans include rebuilding these estates to deliver more homes and commercial space on the same amount of land. The homes would be a combination of 5 to 6 storey homes and blocks of flats.
And later this year, a comprehensive study will consider the best way to get started, while fully involving local communities in the design and planning process, and identifying the barriers that may need to be overcome.
This approach can also increase the value of the land, attracting more private investment which, over 10 years, could lead to several hundred thousand new homes in London.
Read Eric Pickles' article on affordable housing, off-site construction and estates regeneration.
Further Information
The Local Growth Fund (Housing Infrastructure) prospectus is published today (23 April 2014).
See details of funding available through the Large Sites Infrastructure Programme to unlock large-scale sites.
Office address and general enquiries
2 Marsham Street
London
SW1P 4DF
Contact form http://forms.communiti...
General enquiries: please use this number if you are a member of the public 030 3444 0000
Published 23 April 2014
Last updated 24 April 2014
+ show all updates
Added link to Savills website on London regeneration research proposal.
First published.