News story
Helen Grant meets highly trained advisors providing advice on discrimination issues
Women and Equalities Minister visits the Equality Advisory and Support Service.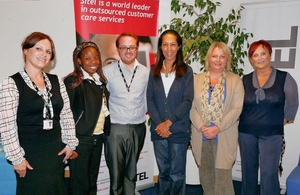 Today, Helen Grant visited the Equality Advisory and Support Service (EASS) at Stratford-Upon-Avon, where she met with a team of qualified advisors providing advice, information and support to individuals across England, Scotland and Wales on discrimination and human rights issues.
Following the closure of the Equality and Human Rights Commission (EHRC) helpline, the EASS was set up to offer bespoke advice and targeted support on issues of discrimination to those who need it most. Where possible the new service seeks to resolve issues informally, but can also offer referrals to mediation or conciliation services, or help to start a legal claim if necessary. The advice service is managed by Sitel UK.
Latest statistics show that 63% of enquiries received by the service relate to disability; 15% of enquiries relate to race, 5% included a human rights related issue. Overwhelmingly 85% of clients reported being satisfied with the help and advice that was provided to them.
Minister for Women and Equalities Helen Grant said:
Discrimination in any form is unacceptable but sadly we know it does exist. That's why it's vital that anyone experiencing unfair treatment can access the right help and support to resolve issues quickly. I am really pleased that the EASS is proving such a success and providing the much needed help and support to the people that need it the most. I know the service will go from strength to strength.
Further information
Published 13 June 2013