News story
Helen Grant challenges young girls to aim high in life
Equalities Minister visits Pimlico Academy.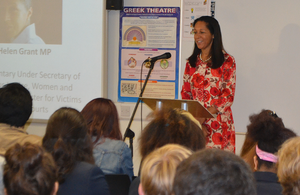 Equalities Minister Helen Grant today visited Pimlico Academy in London to encourage girls in their career aspirations, and urged them to consider careers in sectors that have low numbers of women such as science, technology and maths.
Addressing pupils at the school Helen Grant said:
I am a strong believer in fairness and equality, to me, that means an individual's ability to achieve and progress to their full potential regardless of their background.
It is hard to decide what you might want to do in life. Most of us leave school with a pretty short menu of job possibilities, based on the jobs done by our family and friends. I urge you to really do your research – talk to people and find out all the possibilities open to you. But more importantly don't be "put off" by some subjects just because you think that there are some jobs are just for boys.
Building on the work of the Women's Business Council
Earlier this month the Women's Business Council (WBC) published its report which made a series of recommendations aimed at ensuring real action by government, business and others to maximise women's contribution to economic growth. In its response to the report government has committed to take forward a number of actions to broaden girls' aspirations and help inform their choices at the start of their careers, including:
working with the British Chamber of Commerce (BCC) to establish self-sustaining local partnerships between schools and business, to help raise aspirations and improve the workplace skills of young people. The BCC will work closely with organisations such as the National Careers Council and the Education and Employers Taskforce to deliver these objectives

supporting the development of a campaign aimed at providing parents with the tools and information to help their children make better career and subject choices
Pimlico Academy is a non-fee paying, co-educational school for local children ages 11-18. The school runs a programme called 'Raising Aspirations' which encourages and supports students to set their sights and broaden their ambitions, irrespective of their background or the individual circumstances they face.
Further information
Published 19 June 2013