Healthy low-fat insect and plant protein launched in Wales
SBRI-supported Bug Farm Foods has developed VEXo, a protein that can be used like minced meat, at its new R&D facility in St David's.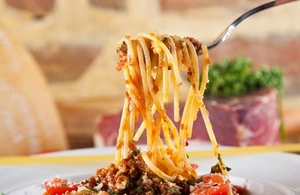 Supporting the launch at Ysgol Penrhyn Dewi, Minister for Environment, Energy and Rural Affairs, Lesley Griffiths said:
In today's climate it has never been a more important time to innovate in food production and simultaneously tackle environmental, sustainability and social issues.
Cutting saturated fat
VEXo has been developed by husband and wife team chef Andy Holcroft and entomologist Dr Sarah Beynon, who between them have also founded the UK's first full-time edible insect restaurant Grub Kitchen and the multi award-winning research centre and visitor attraction Dr Beynon's Bug Farm.
The innovative VEXo can be used in a similar way to minced meat, whilst reducing saturated fat by over 80%. Nearly one-third of 2-15 year olds are overweight or obese, with obesity costing the NHS in Wales around £73 million.
Surge in edible insect market
The edible insect industry has grown at a staggering rate across Europe and North America over the past few years, fueled by an expanding human population demanding new, more sustainable sources of protein.
Insects are exceptionally nutrient-dense and environmentally sustainable to produce," said VEXo co-inventor Sarah.

Many insects contain weight-for-weight a similar amount of protein to beef and they can contain all nine essential amino acids. Insects can be farmed in high-welfare farms while requiring very little feed, water and space and emitting hardly any greenhouse gases.
Bug Farm Foods was funded by the Welsh Government and Innovate UK under the Small Business Research Initiative (SBRI) project to find a way to harness the nutrients contained in insects and deliver them in a form that is acceptable to our western palettes.
Published 16 September 2019